Lang students and DECA U Guelph host annual case competition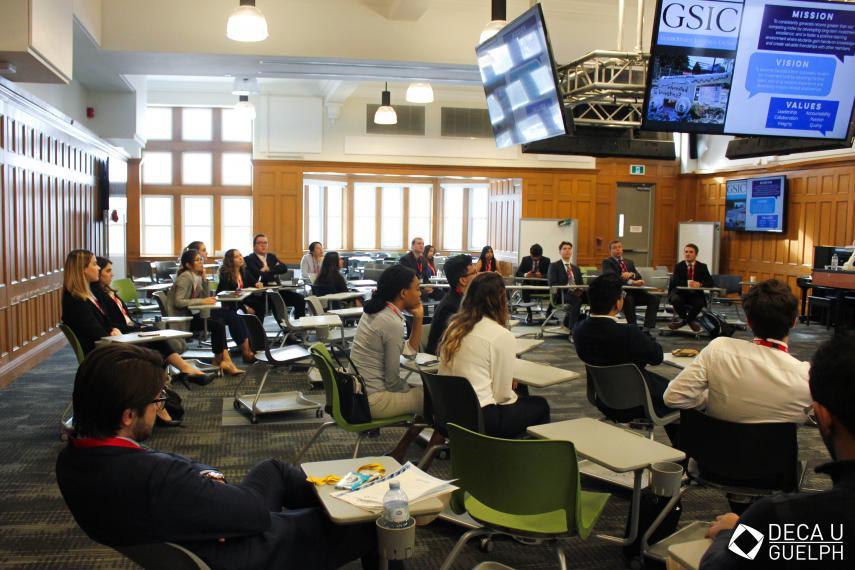 Last month, DECA U Guelph hosted the Ignite conference, their 2nd annual invitational conference and case competition open to all University of Guelph students and beyond.
The conference had over 60 attendees from the University of Guelph and other schools across Ontario.
The Ignite Conference featured a panel discussion with local entrepreneurs, workshops from DECA U Ontario and Guelph Student Investment Council (GSIC), and a case competition.
The case competition was sponsored by Sleep Country, who also had several industry representatives at the event as judges. Congratulations to the top three teams:
First Place:
Ema Hamitaj (U of G)
Elizabeth Samuel (U of G)
Sylvia Kalman (U of G)
Mathilda Smith (U of G)
Second Place:
Jack Edmeades (U of G)
Zach Rucchin (U of G)
Tim Sproule (U of G)
Third Place:
Matthew Johnston (U of G)
Justin Endo (U of G)
April Her (Conestoga College)
Damian Steiger (York University)
Congratulations to DECA U Guelph for hosting another successful event. Special thanks to Sleep Country for supporting the student-run event.
---
DECA U Guelph is the campus branch for DECA, an international student organization that prepares student leaders and entrepreneurs for careers in marketing, finance, hospitality, management, and other professional areas through case competitions and networking events. DECA U Guelph helps students develop professionally, provide opportunities for growth, and ensures they are able to differentiate themselves as young professionals.
Share this page
News Topics