Lang students start new year strong at Central Canada's largest business competition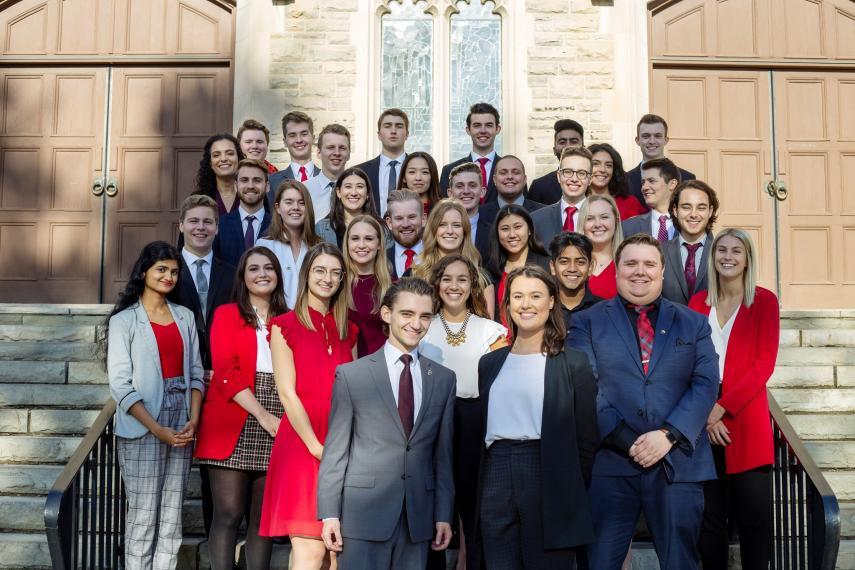 Over 40 Lang business students traveled to St. Catherine's earlier this month to compete in the annual JDC Central competition, the largest undergraduate business school competition in Central Canada.
The competition brings in student delegates from schools across Ontario, Quebec and the Maritimes. The multi-faceted competition spans over three days, with academic cases for eight business disciplines, parliamentary-style debates, sports tournaments, social competitions, and charity contributions.
After hosting last year's JDCC competition with an impressive showing, JDCC Lang continued their success at the 2020 competition, hitting the podium four times:
4th place finish Overall Academic Cup
2nd place finish in Business Strategy
3rd place finish in International Business
3rd place finish in Participation
The top four ranking in academics is a demonstration of Lang students' abilities to compete and perform well across all categories.
"By reaching the podium at large competitions like JDCC, we showcase the exceptional students at the Lang School," said Alexander Kremer, Team Captain for JDCC Lang. "JDCC Lang embodies the values of the Lang School, spreading a message of business for good."
JDCC 2020 was the first competition of the year for Lang business students and was an impressive start to the year as they continue to display their talent across national and international competitions.
"We are incredibly proud of our Lang students and their success at JDC Central," said Sara Mann, Interim Dean at the Gordon S. Lang School of Business and Economics. "To finish in the top three in academics at this competition is an incredible accomplishment."
"What a way to kick off the New Year," she continued. "Lang students continue to prove that they can compete at any level, showcasing their talent across national and international competitions."
Congratulations to each member of JDCC Lang!
Captains
Maxine Gagnon
Alex Kremer
God-Parents
Emily Dugas
Brandon Webb
Faculty Advisor
Kathleen Rodenburg
Volunteers
Olivia Feibel
Laura Kenney
Social
Jenna Floyd
Razeen Nasher
Dylan Gordon
Emma Crosbie
Sports
Emily Balawejder
Sydnee Carroll
Carwyn Carroll
Daniel Tari
Catherine Hardy-Cooper
Marc Forster
Garrett Russell
Noah Berry
Marketing
Rachel Jenkins
Martino Raso
Liam Ireland
International Business
Megan Harrison
Stephanie Sarellas
Michael Conway
Business Strategy
Sharanya Tiwari
Spencer Currie
Amanda Sarellas
Digital Strategy
Katelyn Cortina
Alyssa Weiler
Finance
Viki Ma
Marshal Adlington
Accounting
Michael McAtamney
Kevin Barker
Nathan Parker
Entrepreneurship
Will Hyndman
Thyra Gray
Connor Webb
Human Resources
Renee Morgan
Kaiden Curtis
Ashley James
Wildcard
Thyra Gray
Will Hyndman
Kevin Barker
Share this page
News Topics