Lang grad uses tech to reduce carbon footprint in retail industry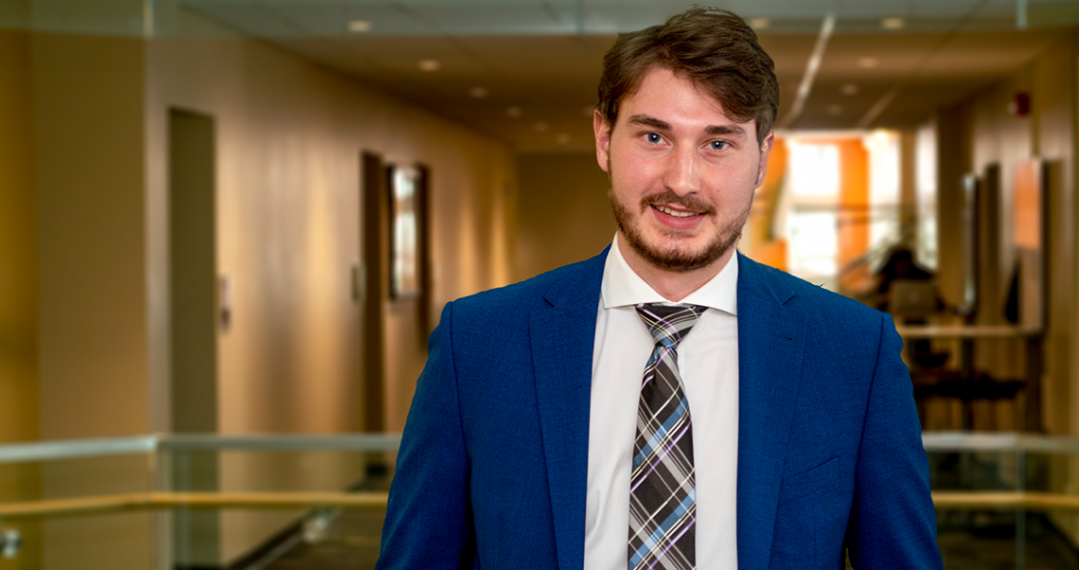 For Lucas Koren, starting a business didn't wait until after graduation. While in the final year of his Bachelor of Commerce degree at Lang, Lucas developed an online clothing platform as part of a capstone management course. Today, his company – Fit Me Right Up (FMRU) – is using this new technology to minimize returns and shipping costs and provide a solution to the retail industry's massive carbon footprint.
FMRU uses a technology called 3Dlook, a body scanning technology that can accurately measure a consumer's body type and provide their perfect size when ordering clothing online. When users submit a frontal and side profile image with their height and weight, the 3Dlook technology measures 47 different body dimensions in order to provide their perfect size.
We sat down with Lucas to chat about his entrepreneurial story and how he hopes his company can address sustainability in the retail industry.
What did you study at Lang?
I graduated in 2019 from the Bachelor of Commerce co-op program, majoring in economics and finance.
Can you tell us more about your website? What's unique about your platform?
Fit Me Right up (FMRU) is an online platform that sells clothing from your top brands but using technology that ensures you're ordering clothes that fit perfectly. We have partnered with 3Dlook, a technology company that uses body scanning tech to accurately measure our user's body. We then take these measurements and compare them to our clothing's size charts to give our users a perfect fit recommendation based on their body and the product of choice offered on our website. This will increase the user's confidence when making clothing purchases online and reduce the number of returns due to items fitting improperly when they arrive at their door.
How did you get this business idea?
The idea was first introduced because of my close ties to the autism community in Toronto. My sister is autistic and struggles with going to the mall to shop for clothing. Because of this, shopping for clothes has always been a task done by my mother, who at times would buy 3 different sizes only to return the 2 items that didn't fit. It got me thinking that there must be a better way.
After extensive research, I realized there wasn't really a solution in the online retail space. Not only was this an issue for people who cannot physically go out and buy clothing themselves, but it applies to any consumer who prefers online shopping. Anyone who has shopped for clothes online knows that there is no guarantee that products will fit. Thus, we set out to create an inclusive platform that almost anyone can use easily and effectively to save time and money when buying clothes and getting clothes that fit them without the hassle of potential returns.
Can you tell us a little bit about how your custom-fit technology works?
Using our platform, users input their weight and height and then upload two images of themselves – a front profile and a side profile image. With these photos, the 3D technology calculates 47 different body measurements that are then compared to each brand's individual product sizing charts. While shopping, the user is shown the perfect fit recommendation based on these measurements.
Who is your clientele or target audience?
Our target market is ages 18 to 35, but we have seen a growing interest in the 36-60 age range. We tailor our products to this market because they are most likely to adopt new technologies and more frequently shop online.
How has this technology reduced the carbon footprint of the retail industry?
The retail industry has a massive carbon footprint and part of our mission is to combat this as much as we can. In a recent study by BodyBlock AI, 72 percent of returns online was due to products not fitting when purchased online. Of those returns, only 50 percent can be resold at a discounted price while the rest is thrown away. The amount of waste, cost, and environmental issues with transporting these returns are troubling. Our technology has the highest accuracy of any other recommendation software on the planet, which is estimated to reduce 50 percent of returns for our partnered brands.
How did the Lang School help in the development of your company?
While the idea was still in its infancy stage, I took a fourth-year management course in my second last semester at Lang. The course involves a semester-long project where you team up with a group and develop a business. I pitched my idea and the group moved forward with it. From there, we refined and built the business model of the company, presented it to the class and finished with the highest grade. FMRU has evolved over the last year and a half, but the core of the company is still the same as we developed in that management course.
The sustainability aspect of our business is important, which also aligns with the values of the Lang School to inspire business leaders to think about sustainability and use business as a force for good.
Where do you hope to take your business next?
In the future, we are looking to make FMRU a leader in the online retail space. We are continually pushing technological boundaries to give our users the greatest online shopping experience. In the next 5-10 years, I hope to have realized our goal to introduce 3D personal avatars that are based on your measurements so you can try clothing on virtually and see how the item looks on you. We have been working on developing this technology and look forward to launching it in the near future.
Share this page
News Topics