U of G's Wood Centre teams up with local business to develop medical equipment

The John F. Wood Centre for Business and Student Enterprise is collaborating with local entrepreneurs in an effort to replenish the shrinking supply of medical equipment and PPE during the COVID-19 pandemic.
Using 3D printing technology available in their MakerSpace, the Wood Centre is working with Waterloo tech company InkSmith to help print personal protective equipment face braces that can be used to make face shields for essential service providers.
Earlier this week, Prime Minister Justin Trudeau made a nation-wide call to Canadian universities to support the development of medical supplies and other resources.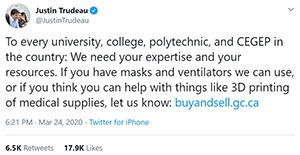 To help answer the call, the Wood Centre team has also teamed up with the Interdisciplinary Design Lab within the U of G's College of Arts. Together they hope to leverage their resources to collaborate with community partners and join organizations nation-wide in the effort to make 3D printing processes more accessible for others to use and help this cause.
The University of Guelph also recently announced several other donations to support the fight against COVID-19, including 10,000 N95 masks collected from across campus.
---
The John F. Wood Centre for Business and Student Enterprise develops innovators and entrepreneurs at the University of Guelph. The Wood Centre looks for innovative and sustainable solutions to economic, social and environmental problems. It is through this mission that they empower a new generation of business leaders committed to community engagement and a sustainable future.
Their 3D-printing technology is part of the MakerSpace, which provides University of Guelph students with the tools they need to collaborate and start prototyping.
Share this page
News Topics