Lang accounting students recognized for academic achievements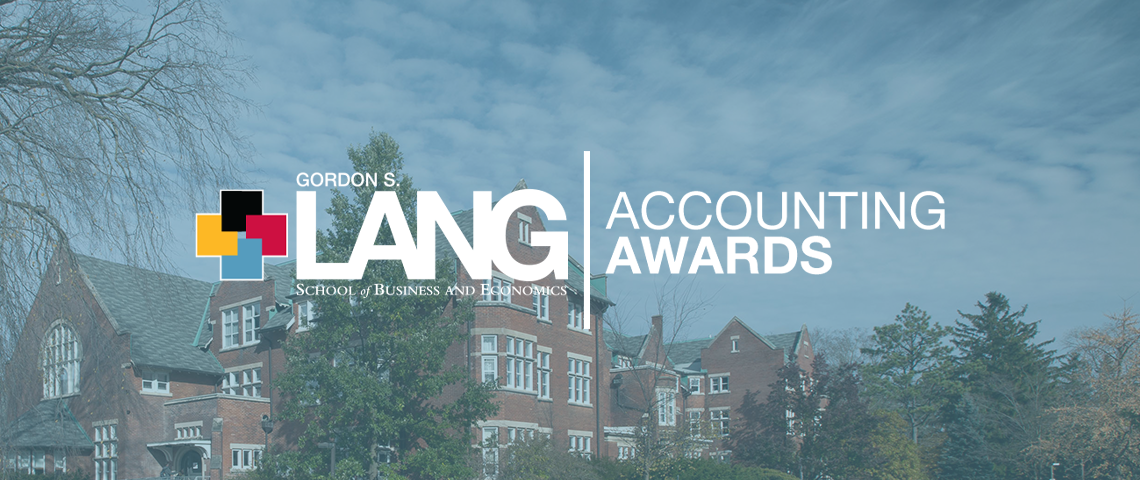 The Gordon S. Lang School of Business and Economics is proud to announce the recipients of this year's Academic Excellence in Accounting awards and scholarships, which recognize the incredible leadership and academic achievements of Lang accounting students.
This year's award recipients were announced at a virtual celebration with Lang faculty, students and industry partners. The annual event is both an opportunity to recognize Lang's accounting students and provide the chance to network with industry partners. Several industry partners attended the event, including representatives from PwC, CalibreCPA, KPMG, Caissa LLP, Manulife, BDO, Baker Tilly, and CPA Ontario.
With this year's celebration taking place virtually, award recipients will still have the opportunity to network one-on-one with industry partners. Based on their strengths and interests, each award recipient will be matched with an employer for a one-on-one networking session.
A special thank you to our industry partners and congratulations to all award and scholarship recipients.
Academic Excellence in Accounting Awards
The Academic Excellence in Accounting Awards are presented each year to students who achieve a grade of 80 per cent or higher in ACCT*3230, 3330 and 3340. Congratulations to the 2020 recipients:
Matthew Anderson
Sehar Azam
Neave Badanai
Trystan Beninger
Tanner Dewar
Sarah Dunning
Dalton Durham
Erin Fearon
Lance Fermin
Paramvir Gill
Gurkanwalbir Jhajj
Hamza Khan
Judith Knelsen
Philip Kwiatek
Hongjing Li
William Ly
Navraj Singh
Jared Pudsey
Manav Sehra
Dua Sohail
Emmanuella Sowunmi
Laura Stephan
Rhea Jeevan Suvarna
Sahranya Tiwari
Stefan Wood
Scholarships
Several other scholarships were also awarded, including the Bill Brohman Memorial Scholarship, the CPA Ontario Scholarship, the Caissa LLP Scholarship in Accounting, and the Waterloo-Wellington CPA Association Scholarship.
Bill Brohman Scholarship
This annual scholarship of $1500 is offered by RLB LLP in memory of Bill Brohman, a founding partner of the firm who served on the University of Guelph Board of Governors from 1986-1992. The award is presented to a a student in the Accounting major of the Bcomm Program who has completed between 10.5 and 15.0 credits with a minimum 75% cumulative average. The award winner is chosen on the basis of academic achievement, involvement in extracurricular activities, and demonstrated interest in a career in accountancy.
Congratulations to Neave Badanai on receiving this award. Along with having a high GPA, Neave has substantial volunteer experience not only in the field of accounting but also volunteering at children's camps where she provided support for children battling cancer. She has been a member of the Lang Students' Association for the past three years, taking on roles such as the Director of Human Resources and Graphic Design Manager. Neave is currently the Director of Finance for the Lang Sustainability Conference.
Caissa LLP Scholarship
This scholarship is awarded on the basis of exceptional leadership as demonstrated by a resume, which may include, but is not limited to, employment within the Accounting industry, co-operative education placements within the Accounting industry, involvement in school clubs, sports teams or events and extra-curricular volunteer activities.
Congratulations to Dante Ramsahoi on receiving this award. Dante has demonstrated leadership in her position as manager of events on the Accounting Society of Guelph and in her role as the Marketing lead at CPA Guelph. She was also a CPA Articling and assurance student this summer in with MNP where she gained valuable experience along with making great professional connections.
CPA Ontario Leadership
The recipient of the CPA Ontario Leadership award is based on academic performance and demonstrated superior leadership ability and potential as evidenced through positions held, extracurricular activities, involvement on campus/in school/in the community. Students had to outline their expressed intent to pursue a CA designation, Certificate in Leadership and the importance of pursing leadership training as a part of their business education and a detail description of their leadership activities.
Congratulations to Bridgett Clapp on receiving this year's CPA Ontario Leadership award. Bridgett plans to pursue her CPA designation after graduation and the Certified Leadership Professional designation. She aspires to start her own small public accounting firm and looks to gain all the necessary knowledge to properly manage and lead a professional organization. She has taken many leading roles, starting in high school where she participated in Student Cabinet and Link Leader clubs for many years. She has worked in various co-op roles and has recently joined a program where she is getting hands on experience running her own painting business where she recruits, hires, and works with employees to help them grow as individuals.
CPA Ontario Scholarship
This scholarship supports full-time BComm students entering fourth year in the Accounting+ major with a minimum 75% cumulative average, who have completed three electives in a non-accounting area such as leadership, real estate and housing, entrepreneurship or corporate social responsibility. Preference will be given to students intending to pursue a CPA designation within 2 years of graduation.
Congratulations to Rehan Panjwani on receiving this year's CPA Ontario Scholarship. Rehan has had a wide range of experience working with BMO where he was an audit analyst and worked on a finance-technology transformation project. He has been an active participant with DECA where he won 3rd place in Ontario in the accounting category. After that, he joined the DECA executive committee as director of finance and then as VP of Internal Affairs.
Waterloo-Wellington CPA Association Scholarship
This award recognizes a student registered in the Accounting major of the Bachelor of Commerce program who has completed between 4.5 and 12.5 credits with a minimum 80% average in their accounting (ACCT) courses. The recipient is selected based on a 100-word or less statement describing why they intend to pursue a career as a Chartered Professional Accountant (CPA) and a resume that includes activities demonstrating involvement in the local community.
Congratulations to Samuel Green on receiving this scholarship.
Share this page
News Topics