Co-op in unique places: Nathan Muir-Cressman, Lang BComm

Adding a co-operative education term (co-op) to your degree can be a career-defining decision. That's why all majors within the Lang School's Bachelor of Commerce program features a co-op option. Co-op employers include a range of organizations, from local businesses and nonprofits to large national and international corporations. That means Lang students not only have the opportunity to gain valuable work experience, but they have the chance to work in several unique places across Canada and the world.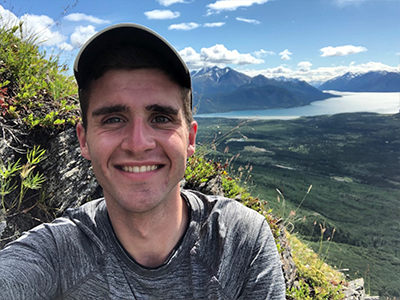 For Nathan Muir-Cressman, that meant a co-op term in the Yukon as a Youth Development Coordinator within the Yukon Government.
We spoke with Nathan to learn more about his opportunity to complete a co-op term in the Yukon.
What did the Youth Development Coordinator role with the Yukon Government involve?
This communications-based role is focused on helping Yukon youth develop the traits, values, and experiences that promote positive behaviour to help them reach their full potential. In the summer, my role shifted to assisting youth organizations and summer camps to help obtain funding so they could operate through COVID. I created news releases, update websites, created presentations, presented to various organizations on development assets, and wrote and released youth acknowledgment awards for the 2020 summer season.
During the co-op term, were you able to utilize any of the skills you have learned during your degree at Lang?
I have been able to use the skills I learned at Lang to better serve the broader Whitehorse community. The ability to pivot from a communications-based role to a finance-based one this summer came with ease due to the knowledge I have learned through courses on economics, accounting, and finance. I have also applied many of the presentation skills that are highlighted through courses such as MGMT*1000 to ensure my presentations are fluid and contain useful and interesting content. I have also applied the communications skills - both verbal and written - that I have learned through different student associations, networking events, and human resource courses.
Why did you choose the Lang School?
I chose to attend Lang because it offered a top-rated program with 8-month co-op terms and allowed me to focus on both management and finance, rather than having to choose just one. Lang also offered smaller class sizes and a more diverse selection of courses starting as early as the first year. I had only visited the campus once as a kid and didn't have the opportunity to view the campus before the selection period ended, so my final deciding factor was a personal call from professor Evie Adomait. She not only highlighted program specifics, but she allowed me to ask questions that would not have otherwise been answered online. She proceeded to leave me her phone number to contact her if I had any further questions when navigating acceptance.
Share this page
Find related news by keyword
News Topics