Lang students pitch solutions to real business challenges in virtual competition.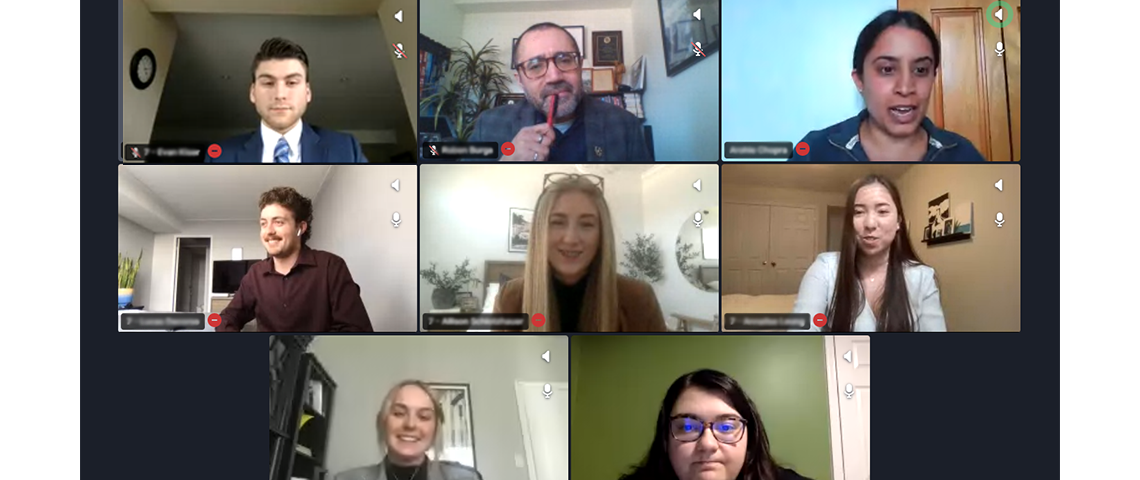 Last week, Lang Commerce students pitched creative business solutions to representatives of industry partners as part of their fourth-year capstone course MGMT*4000 – Strategic Management.
393 Lang students from all 9 BComm majors were placed into teams and received a specific strategic problem facing one of three industry partners, including Labatt, TELUS and startup Shared Storage. The teams worked on solving their assigned problem throughout the semester.
"The course includes students from all disciplines at Lang, who bring varied experiences and knowledge to the competition," says MGMT*4000 professor Dr. Nadège Levallet. "This diversity and breadth of expertise of our students contribute to the success in solving these strategic problems."
The students were tasked with presenting their recommendations to the company representatives via a short recorded pitch and a live question and answer period. The strategic challenges the students were tasked with solving included e-commerce, brand building, sustainability and HR challenges.
"It's a pleasure to be able to provide students with real-life business problems to equip them with the skillset and tools to prepare them for their future," says Danielle Galbraith, Talent Manager, Continuity People at Labatt. "It's an invaluable lesson for the students to be able to see what relevant issues firms are currently facing. Thank you to Lang for a wonderful partnership that gives us the platform to connect with students and equip them to be the leaders of tomorrow."
The capstone course, Strategic Management (MGMT*4000), challenges students to integrate knowledge from other courses to analyze comprehensive business problems, establish viable strategies and recommend plans of action. It leverages experiential learning throughout the semester to enable students to apply their learning to the real world.
"Industry collaborations allow every student – regardless of their major – to draw on content we've learned throughout our degree," says BComm student Rachel Jenkins. "Solving real-life business problems allows us to see the bigger picture and brings our learning to life."
 
Share this page
Find related news by keyword
News Topics