Lang accounting students recognized for academic achievements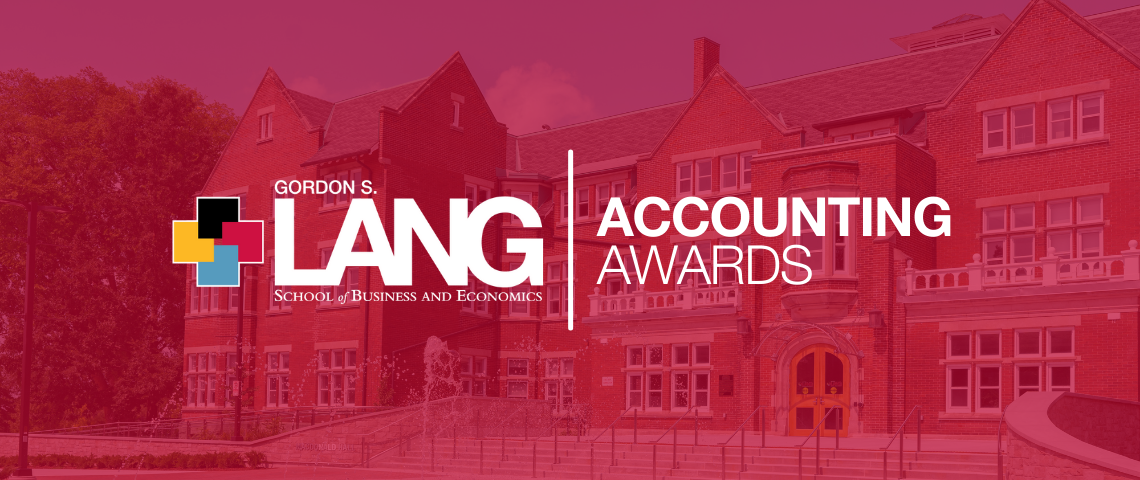 The Gordon S. Lang School of Business and Economics is proud to announce the recipients of this year's Academic Excellence in Accounting awards and scholarships, which recognize the incredible leadership and academic achievements of Lang accounting students.
This year's award recipients were announced at a virtual celebration with Lang faculty, students and industry partners. You can watch the recording of the virtual event here. The annual event is both an opportunity to recognize Lang's accounting students and provide the chance to network with industry partners. Several industry partners attended the event, including representatives from KPMG, Caissa LLP, Manulife, BDO, RLB, and CPA Ontario.
With this year's celebration taking place virtually, award recipients will still have the opportunity to network one-on-one with industry partners. Based on their strengths and interests, each award recipient will be matched with an employer for a one-on-one networking session.
A special thank you to our industry partners and congratulations to all award and scholarship recipients.
Academic Excellence in Accounting Awards
The Academic Excellence in Accounting Awards is presented each year to students who achieve a grade of 80 percent or higher in ACCT*3230, 3330 and 3340. Congratulations to the 2021 recipients:
Grace Barlow

Kaylyn Becker

Jing Bi

Meghan Coles

Kaiden Curtis

Jordan Day

Katherine Easton

Steven Fryters

Jarod Henriques

Eric Kerkhof

Aman Lall

Justin Lauzon

Nicole McIntosh

Josh McRae

Blake Reid

Bikaramjeet Saini

Madison Sharer

Bill Sigue

Luca Silva

Jasmine Sneltjes

Kurtis Twnystra
Scholarships
Several other scholarships were also awarded, including the Bill Brohman Memorial Scholarship, the CPA Ontario Scholarship, the Caissa LLP Scholarship in Accounting, and the Waterloo-Wellington CPA Association Scholarship.
Bill Brohman Scholarship
This annual scholarship of $1500 is offered by RLB LLP in memory of Bill Brohman, a founding partner of the firm who served on the University of Guelph Board of Governors from 1986-1992.  The award is presented to a student in the Accounting major of the Bcomm Program who has completed between 10.5 and 15.0 credits with a minimum 75% cumulative average. The award winner is chosen on the basis of academic achievement, involvement in extracurricular activities, and demonstrated interest in a career in accountancy.
Congratulations to Jake Vogel Mathers on receiving this award. Along with having a high GPA, Jake has been involved in many extra-curricular activities not only in the field of accounting but also volunteering as a Tae Kwon Do instructor for over 4 years, participating in multiple sporting events, and most recently offering academic assistance to students.  Improving the financial health of the community is one of Jake's long-term goals which he wishes to fulfil by volunteering his time and sharing professional knowledge with non-profit organizations and the less privileged community members.
Caissa LLP Scholarship
This scholarship is awarded on the basis of exceptional leadership as demonstrated by a resume, which may include, but is not limited to, employment within the Accounting industry, co-operative education placements within the Accounting industry, involvement in school clubs, sports teams or events and extra-curricular volunteer activities. 
Congratulations to Madeline Harrison on receiving this award. Madeline has demonstrated leadership in a variety of ways during her co-op terms, in her extracurricular activities, as well as academically. Madeline has been involved with many sports associations as a Tennis and Hockey coach. She has also been an undergrad research assistant with the International Institute of Sports Leadership where she utilized her data analytics skills. She has worked as an accounting and assurance intern at BDO where she gained valuable experience along with making great professional connections.
CPA Ontario Scholarship
This scholarship supports full-time BComm students entering fourth year in the Accounting+ major with a minimum 75% cumulative average, who have completed three electives in a non-accounting area such as leadership, real estate and housing, entrepreneurship or corporate social responsibility. Preference will be given to students intending to pursue a CPA designation within 2 years of graduation.
Congratulations to Nicole McIntosh on receiving this year's CPA Ontario Leadership award.  In addition to being a high academic achiever, Nicole has had a wide range of experience working with different entities gaining valuable skills and work experience. She is part of many extracurricular activities such as being a brand ambassador of the Accounting Student Association where she monitors the budget, as well as being a lead volunteer for the Tax Clinic on campus. Along with being an exceptional accounting student, she is minoring in HR and taking psychology courses to also build her emotional intelligence, which is an essential part of being a well-rounded professional and CPA.
Share this page
News Topics