Equitable Life funds development of a new 3-course certificate in data analytics, risk for insurance professionals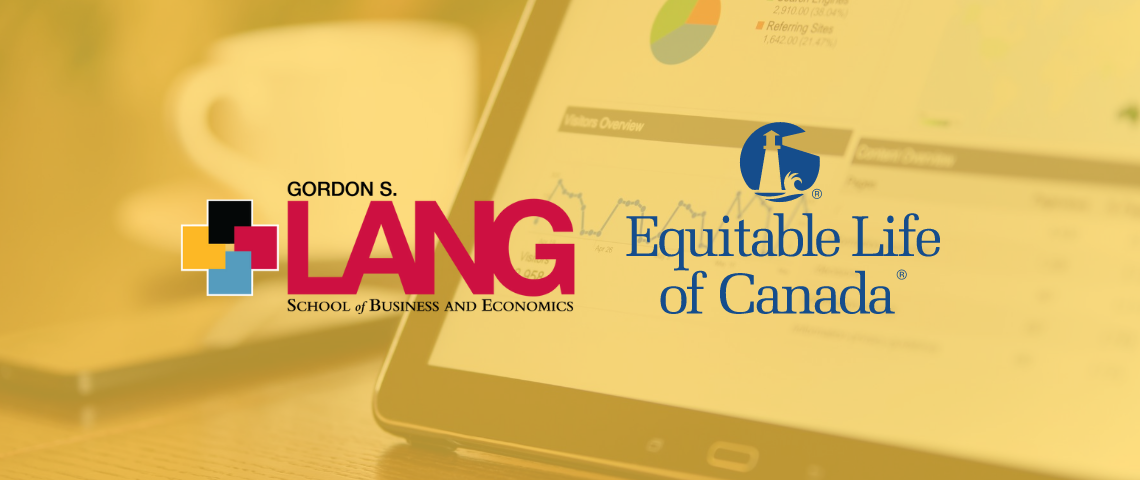 Professionals working in the insurance industry will soon be able to upgrade their skills in data analytics and risk management thanks to a new certificate program offered by the UofG's Lang School of Business and Economics, pending formal program approval.
Thanks to a $100,000 donation from Waterloo-based insurance company Equitable Life, the 3-course certificate will utilize Lang expert faculty in actuarial science and insurance risk related to health, automobile, climate, and agriculture risk. With the launch of this certificate, Lang will be one of only a few business schools in Canada to feature programming focused on actuarial science.
"Data analysis has emerged as a key tool in the realm of insurance as it helps insurers build innovative products, make better decisions, and achieve better business outcomes," says Lang economics professor Dr. Hong Li. "Students in this certificate program will learn principles of various modern data analytics and will apply their learning in real-life insurance pricing and risk management problems."
Lang dean Dr. Lysa Porth is also one of Canada's top scholars in actuarial science. She previously served as director of the University of Manitoba's Warren Centre for Actuarial Studies and Research as well as the Guy Carpenter Research Chair in Agricultural Risk Management and Insurance.
"We are incredibly thankful for the support of Equitable Life and for believing in Lang to help foster the development of professionals in the insurance sector," says dean Lysa Porth. "Students will have the opportunity to learn from our renowned faculty in risk and data analytics and how to apply complex theory to real-world situations," she added.
These courses will help boost insurance professionals' skills and training in data analytic algorithms and risk management problems.  
"The insurance industry is constantly evolving and the pace of change is accelerating," said Lisa Zwicker, AVP and Chief Risk Officer at Equitable Life. "This certificate will help insurance professionals learn and develop the innovation needed to drive and adapt to this evolution."
According to associate dean, research and graduate studies Dr. Sean Lyons, the hope is to offer these courses remotely with short residential periods on campus, pending University approval.
"Providing on-campus residential periods provides unique opportunities for students to network with their colleagues and form a connection to the School as well as their cohort," said Lyons.
The courses will tentatively start in 2023.
Share this page
News Topics