"It was a dream come true" - Lang graduate lands job at Porsche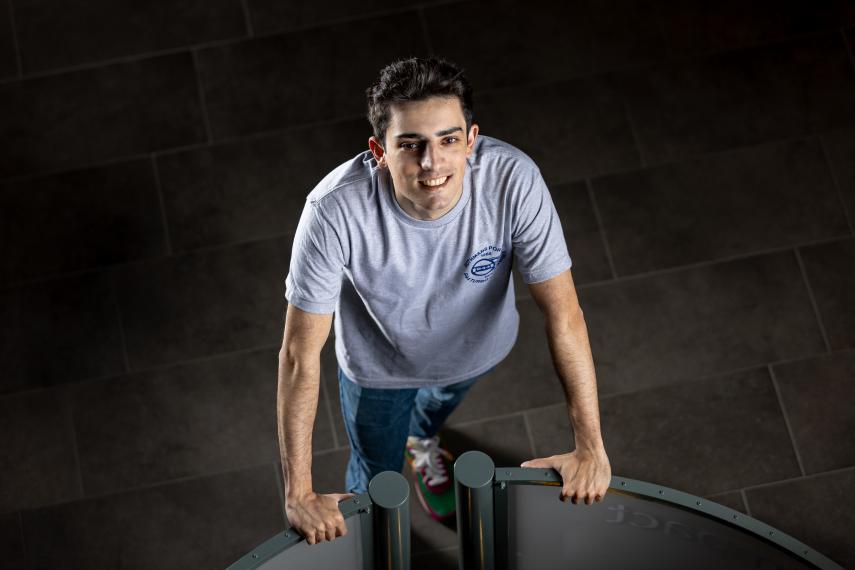 When he was six years old, Toygar Yildirim (Lang BComm '20) wrote to the parent company of the one he now works for to ask for a job. He got a thank you inviting him to connect again when he turned 18, and unlike most he seems to have taken that seriously, because he planned a trajectory that took him from his home country in Turkey to Canada to a position in business development. The company? Porsche Cars Canada, Ltd.
Yildirim applied to eight Ontario universities and came to Guelph sight unseen because someone from U of G's international admissions team visited his high school and answered all his questions. "She made the point that the university I chose should reflect my personality and have a good balance between academic and social life, which was exactly what I wanted."
Yildirim already knew he wanted to study marketing, mesmerized at a young age by car ads in magazines. When he got to Lang, he found a mentor in professor Rob McLean.
"Rob taught our marketing courses through personal experience as a marketer himself, and his understanding of the field and how important it is to balance textbook knowledge and real-life information was essential to our learning," says Yildirim.
He adds that McLean was always available for advice and helped students get ahead by encouraging to go further than the curriculum; for example, by teaching them to use Shopify or encouraging them to develop a portfolio website. "Rob McLean's impact on my personal and professional life exceeds anyone else, including my family," says Yildirim.
Looking to move through his program quickly, Yildirim graduated a semester early by overloading on courses. As a self-funded international student who felt the consequences of Turkey's economic crash of 2018, he helped to expand the number of scholarships that were available to international students.
Despite his busy schedule, Yildirim also made time for extracurriculars, including a role as a peer helper, as well as participation in intramural soccer and volleyball. Besides academics, Yildirim also worked at the university: alongside his first contact in the admissions office, plus roles running social media channels for the John F. Wood Centre for Business and Student Enterprise, and giving lectures to first- and second-year economics students.
After graduating early, as class valedictorian no less, Yildirim continued to work in the Admissions Office for six months before securing his internship at Porsche Cars Canada. Inspired by Rob McLean's advice on how to stand out as a new graduate, he created a portfolio website called A Study On (astudyon.org) where he would publish weekly posts on topics from calculating God's tax return to analyzing Tesla's Target Customer Market. Soon the site was getting up to 15,000 views daily and caught the attention of a recruiter from Apple, who invited him to apply for a position. "As Rob said, be able to show your personality, because at the end of the day, graduates have to differentiate themselves," says Yildirim.
By his first six months at Porsche Cars Canada, Yildirim had already progressed from his original position of Business Development Intern to a contractor role as a Digital Sales Coordinator. In Retail Development, he analyzed key performance indicators for the dealer network. In his new position, he helps manage the customer relationship management system for the company. Yildirim says he calls on the time management skills he gained in the program on a daily basis, plus hard skills like data analysis and tools like Excel. "I couldn't do my job without them," he says.
Now that he's working for his ideal company, Yildirim encourages other students to identify a workplace that is right for them. "If it's something you truly enjoy, you will move up and make money. People just should follow their dreams. And I realized that some people might not have a clear idea like I did, but it's key to get a job that you like waking up for every morning." Sort of how he feels about Porsche Cars Canada? Yes. "When the opportunity came up, and I actually got the job, it was a dream come true for me."
Share this page
Find related news by keyword
News Topics