Lang starts a sports fan on the path toward her dream job with MLSE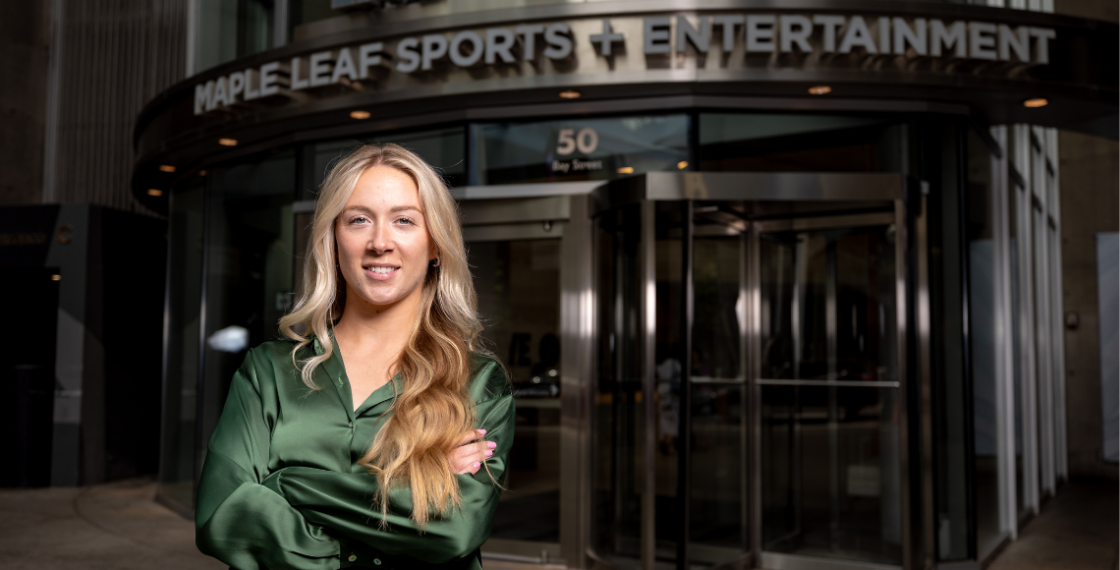 Rachel Farrell (Lang BComm '16) may have started her job in events marketing at MLSE in 2022, but it's a position she's thought about her whole life. "I grew up playing sports. My family is a big hockey family, we would watch games every Saturday night. As a little girl watching the Toronto Maple Leafs on TV, I knew I wanted to be a part of the excitement of live sports and events."
Never losing sight of that goal, Farrell completed her business degree at Lang and scored a spot on the NFL's marketing and events team where she worked for five years before recently moving over to MLSE, which includes the Toronto Maple Leafs, Toronto Raptors, Toronto Argonauts and Toronto FC.  "I'm very happy and especially starting this new job with MLSE, as a Leafs fan. It's a very exciting time for me and my career."
Taking action on this trajectory started by choosing business at Guelph, where Farrell appreciated the program's flexibility to let her explore. "That's the nice part about Lang, that you have a year to do some courses and then pick where you want to major," recalls Farrell. She gravitated towards marketing immediately, and also fell in love with the campus and the environment.
"Friends that I met in my business classes are still some of my best friends today. I always felt that Guelph was just a very welcoming environment overall. The profs are very welcoming, which made all the students feel more comfortable. They encourage you to chat and work together which is how I met a lot of my friends." Farrell adds that those group presentations have also become valuable practice for her career.
Farrell also got involved in many extracurriculars. She joined the case competition club DECA with a friend she met in a business class, and the pair was asked to be Directors of Training the following year. "We hosted training sessions twice a week, to prepare the students for their case presentations including how to analyze the case and presentation skills that the judges are looking for," she says. She also made her volunteer hours count towards a leadership certificate offered to business students.
Already involved in sports in Barrie in high school, she continued her active lifestyle at Guelph by playing intramural sports, including hockey, multisport (where students play a variety of sports such as basketball and volleyball) and badminton. In her last year, she worked for the Guelph Gryphons athletics department helping to organize external alumni relations events like golf tournaments and fundraising dinners, solidifying her desire to get into the sport marketing and events world.
"I always encourage students to get involved, anywhere that you can, it's a great way to not only get experience, but to meet a lot of people," she says.
In describing her first career position at the NFL, which she obtained after also completing an internship at TSN following a Sport and Event Marketing graduate certificate at George Brown College in Toronto, Farrell says she worked in the Canadian office, leading football development from tournaments to coaching clinics, managing relationships with media partners, and worked event operations for NFL Drafts, Super Bowls and London Games. In her new position with MLSE, she has already taken on high-profile events, including Jurassic Park. "It's all about the fan experience elements that you feel when you walk inside of an event: the talent, the DJs, the show, and the content. That's our team, doing all that. It's been very fun," says Farrell.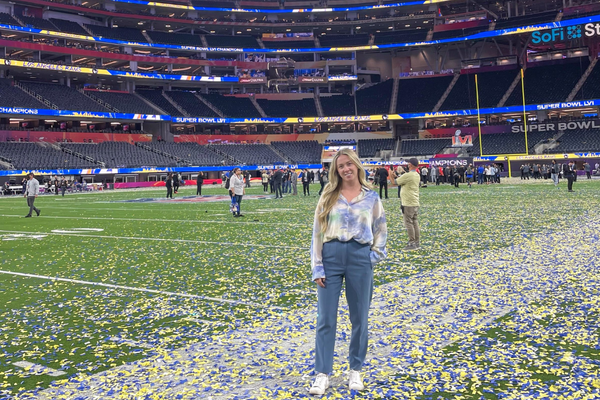 Farrell says her time in business school helps her in her current career. "I think Lang prepared me very well. From a time-management and organizational standpoint, having five courses a semester and being part of DECA and playing intramurals and having a part-time job, you really have to prioritize, manage your schedule," she says, adding that the networking events that she attended were also very valuable.
In terms of advice for others, Farrell says that getting involved in extracurriculars and getting out of your comfort zone are elements that worked well for her. "You can learn a lot about yourself, things that you really like or even things you don't like. That's valuable in when you're in university, and especially at Guelph, because there's so much opportunity. Take the time to soak it all in while you're there."
Share this page
Find related news by keyword
News Topics