Grad inspired to move her career towards beauty and sustainability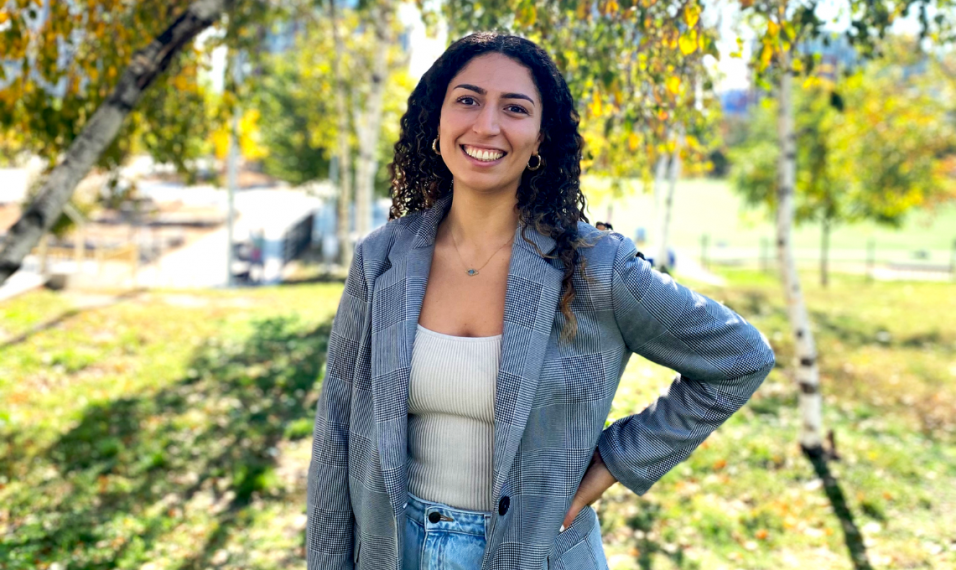 In the ever-changing world of digital marketing, forward-thinking business leaders create their own paths. For Lana Elsheikha (BComm '20), the confidence and skills she gained at Lang helped her to do just that at the same company as one of her completed co-op terms. After keeping in touch with her supervisors at Henkel, a global consumer goods company that includes brands from Schwarzkopf to Dial, Elsheikha was keen to return to the company upon graduation.
"I told them about my passion for digital marketing and my interest in sustainability, which was becoming a bigger focus for the company, I believe that's why I got the opportunity to shape this into a unique role," she says regarding her position. Now with Henkel for two years, Elsheikha's title is Digital E-commerce Specialist and her role involves developing and launching digital projects, plus digitalizing marketing activities. "I became the go-to person for digital solutions."
Even as a co-op student, Elsheikha took charge of her own learning. "I just had the guts to ask for the projects I wanted. And my co-op advisor at Lang, one of the most amazing people I've ever met, really encouraged me about the projects I wanted, even though it was outside of my job description," says Elsheikha. She took on a project updating an existing platform, which afforded her a lot of responsibility and the opportunity to shine.
Elsheikha's experiences at Lang allowed her to establish this track record of innovation. She counts around 18 extracurriculars, from volunteering with Five Days for the Homeless, non-profit Bracelet of Hope, Habitat for Humanity, AIESEC, to taking on paid positions with the social media team for Student Experience, alumni affairs, student volunteer connections and the Media Studio at the Library. She even explored entrepreneurship through Lang's John F. Wood Centre for Business and Student Enterprise doing digital marketing for a sustainable start-up called TUF Candy that made cutlery out of candy.
Elsheikha also did an exchange to Australia, where she gained new perspectives on business in a global context. "It's such a valuable experience, seeing how a different culture educates on the same topic. I think that one of the reasons that I am able to work for an international company now is that I have exposure to other countries," she says of her eight months abroad.
An international student, Elsheikha says she didn't even know how to pronounce Guelph when she first heard about the school, but was attracted by the co-op program and Guelph's dedication to sustainability. The campus exceeded her expectations, from the beauty of the learning environment to the warmth she found from friends and professors. "What I loved about the program is that it was so community based, extremely experiential. Professors were always interested in hearing about what you're doing outside of the classroom, you're always encouraged to participate. Everyone was working towards similar goals – it felt like we were a team versus competing against each other.  That environment was really amazing."
Elsheikha says her classes also helped her find her way into her career. Her favourite was on consumer behaviour, which she liked for its dual focus. "It was approached in a really scientific way, but also all about storytelling. That's what made me fall in love with where data and stories come together," says Elsheikha, adding that she's considering a master's degree in the subject. She also enjoyed her class in marketing strategy, and the fourth-year capstones. "The capstone courses were such a good starting point for my career."
As for her future career plans, Elsheikha says she'd like to continue to work in areas where lifestyle meets sustainability. "I just love the direction that businesses are moving in the lifestyle industry and really aligning with consumer values," she says, adding she first realized this was possible when attending Lang.
"That was the first time I saw sustainability and business together. I know it's such a buzzword, but everything we did at Lang was really based around that value. Now I volunteer on the sustainability committee at Henkel. And I applied a lot of my knowledge that I learned at Lang, so I am able to bring a lot of knowledge and personal interest to the committee," she says.
Share this page
Find related news by keyword
News Topics