"Co-op strengthened my self-confidence" - Q&A with HTM student Alec Schaefer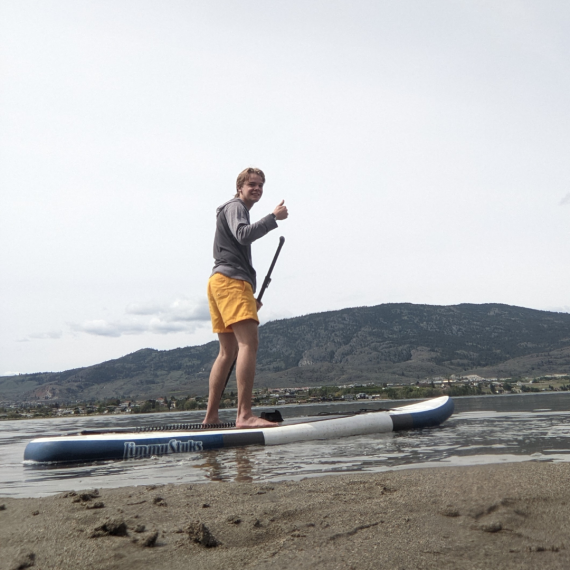 Alec Schaefer, BComm '25 (Hospitality and Tourism Management, co-op) is currently living in Vancouver, BC working at SynVest Asset Management on a 1-year placement. He says that the opportunities within his co-op placements have strengthened his self-confidence, especially when it comes to taking control of a situation or a project.
Travelling to another province for a co-op is a big change, tell us how you adjusted to making new friends while simultaneously learning and working.
Travelling so far away from home was definitely a big change and it was challenging to balance my work while adjusting to my new surroundings all while trying to make friends. I was fortunate to have a couple of days before I had to start working where I was able to scout out the city and take note of things like where I could get my groceries or where I could get a haircut. This took a lot of stress off of me and helped me adjust quickly to the change. Making new friends was challenging especially since the company I worked at mostly employed staff older than me which meant I had to look to other places for building connections and friendships. I would say that the best thing I did to adjust to this was to put myself out there to join clubs and teams in the community.
What's one thing you've learned in your current co-op that you feel has impacted you the most?
The thing I have learned during my co-op that I feel has impacted me the most is how to turn a negative situation with a customer or guest into a positive one. For the longest time, I saw every problem as something I could fix instantly but ever since I started working for these hotels I have noticed not every problem has an easy solution. The best way to approach it is to slow down and work with the guest instead of panicking while trying to solve the problem as quickly as possible and actually separating the guest from the situation, I ask the guest "how can we make this better for you." This is something that I feel like I will take with me throughout my career and will also use in situations outside of the workplace.
How do you feel this co-op experience will prepare you for the future?
If this co-op has strengthened one skill of mine it's my self-confidence especially when it comes to taking control of a situation or a project. Throughout my co-op I was tasked with several independent projects which included, auditing reservations and rooms, writing local recommendations of food and entertainment for guests, taking on marketing, taking inventory of storage, and helping out with concerts and BBQs at the hotels. Some of these projects didn't have step-by-step instructions on how to do them or how the end result should work so I had to rely on my own instincts and confidence to see them through. This confidence and problem sovling is something I will definitely take with me into my future endeavours.
What's one piece of advice you would give to our Hospitality, Tourism Management students?
The best piece of advice I could give any Hospitality and Tourism Management student is to find opportunities to say yes to! We go through so much of our life saying no to situations that put us outside our comfort zone and we lose out on so many valuable learning experiences. As students, we should always be putting ourselves out there and saying yes to what comes our way even if these opportunities take us away from home or involve long hours of difficult work at times. I say this because, in the end, you will thank yourself for starting!
Share this page
Find related news by keyword
News Topics