Three Lang students receive scholarships from The Condo Store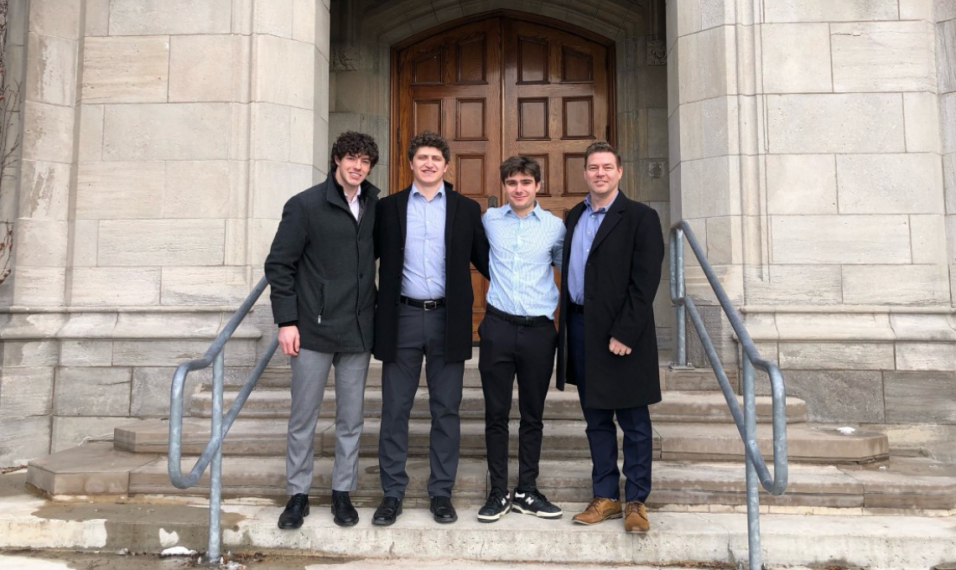 The Condo Store, one of the largest pre-construction real estate companies in North America, established an annual scholarship in 2021 to support experiential learning of Bachelor of Commerce students within the Real Estate Major. The scholarship is awarded to the student team that completes the best investment analysis for their final project in Real Estate Appraisal, fostering student learning and skill development including teamwork, collaboration, and presentation skills. Commerce students Brett Addison, Casey Hicknell and Jackson Roode were the recipients of the scholarship for Fall 2022.
"Industry support is vital for an applied program such as the Real Estate major at Lang. The commitment of The Condo Store to actively engage with the student teams and provide feedback on their pitches in addition to the financial support is incredibly valuable to our students and the program." according to Rogier Holtermans, Assistant Professor of Real Estate Finance at Lang.
Richard Kuypers, University of Guelph Alumnus and The Condo Store's Chief Marketing Officer added: "It's always nice to come back and visit campus and to be able to observe and discuss the great work being done with Professor Holtermans' guidance is amazing. The talent level is sky-high and we at The Condo Store are proud to support the school and ultimately the winning team as we set out to support the next generation of business leaders."
Each of the recipients commented on how incredible this opportunity was to further their knowledge in the real estate industry, thanking The Condo Store Chief Marketing Officer Richard Kuypers and Professor Rogier Holtermans for the opportunity.
"Competing for The Condo Store Scholarship gave us a unique opportunity to showcase our knowledge in the appraisal field, challenged us to create feasible investment recommendations, and allowed us to receive important advice and feedback to keep in mind moving forward into my career. This experience is one that I will certainly cherish when reflecting on my time studying at the Lang," said Casey Hicknell.
To read more about this scholarship, visit https://www.uoguelph.ca/lang/news/2020/11/lang-real-estate-students-compete-cash-prize-thanks-new-scholarship
Share this page
News Topics