"Lang empowers its students" - International Commerce student, Dhoon Gandhi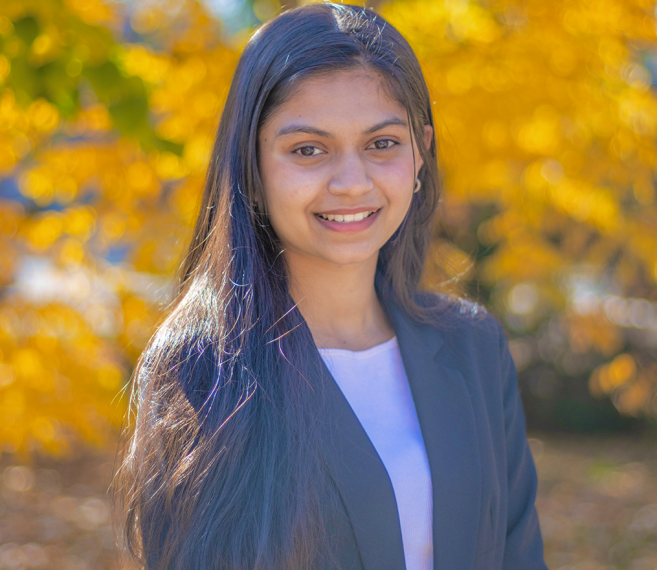 What drew you to apply to UG Lang? 

 
There were a few things that initially drew me to Lang. The first thing is that Lang offered me scholarships, which reduced the financial stress that I faced going to university. Another thing that really intrigued me about Lang is the amount of both majors and minors that are offered, which allows you to customize your degree and get exactly what you want out of your time there. Lang also has a strong focus sustainability and collaboration with businesses which means that what you learn at Lang is really applicable to the ever-changing world of business. I also had heard that Lang had small to medium sized classes and the option to meet with TAs and profs one-on-one which I really appreciated.
What advice would you give to other international students considering attending Lang?  
I would tell other international students to consider both the impact and what Lang offers. Lang's impact goes beyond education and empowers students to work towards improving their lives in unique ways. Lang offers a lot of flexibility in terms of education and the resources that are available to every student, all you have to do is take advantage of them.

If I ever get homesick, I like to meet up with my friends and do some activities. Cooking comfort food is also something that I have found really helps.

I like that Guelph is a safe, medium sized city. It has a small community and lots of things to do; I have also found that the people in Guelph are very kind.
---
Interested in attending UG Lang?
Learn more about being an international student at UG Lang
---
Tell us a bit more about your co-op experience at UG Lang?
Lang has a lot of amazing opportunities that I would not have been able to take advantage of if I decided to attend another school. Co-op, which has been a vital part of my education as well as the ability to connect and network with companies are both things that come to mind. 

I was able to work at many interesting places during my co-op work terms. I worked at the International Communications and Partnerships department at UoG, in both Innovation and accounting at Linamar as well as my current position in assurance and accounting at BDO. I got help from the Business Career Development Centre for my resume and cover letter as well as booking interview prep appointments. The networking I was able to do also came in handy, as I kept in touch with campus recruiters from previous companies which helped me in my future co-op job search.

The staff at both the Experiential Learning Hub and the Business Careers Development Centre have been very helpful and they have a lot of resources for students seeking jobs. Lang hosts job fairs which are a great way to connect, network with employers and hand in your resume. Many companies also offer information sessions for students, where you can go to their offices to network with industry professionals.
Have you taken any interesting courses where you worked hands-on? Which one's were your favourite and why?
I have taken a lot of interesting courses during my time here. In my Fundamentals of Entrepreneurship class I had to prepare a model and make a Shopify website to sell products. I found my Strategy of Merger and Acquisitions class to be equally interesting, where I learnt how to do company valuations and how different M&A transactions are conducted. In my Investments class we learned about portfolio theory, and I got to track a portfolio using a variety of different methods. Finally, in my advanced macroeconomics class we applied concepts of economics and math to make predictions of an economy's behaviour over a long period of time.
We have many student clubs at the University of Guelph. Tell us about the clubs you've joined and how they have impacted your learning?
I have joined two clubs here at Lang, the first being the Lang Sustainability Conference. This is a three day annual event that offers students a chance to explore and develop business solutions for the current challenges in the social, environmental and economic space. I learned a lot about what makes a sustainable business being a part of LSC, as well as the importance of adapting to change.

The second club I joined is the Guelph Student Investment Council. This club gives students a chance at gaining hands-on investing experience in North American markets, funded by Fidelity investments and runs a concentrated portfolio with small-to-mid cap stocks.
How did you find the transition to life and studies at Lang? 

 
I found the transition to life and studies at Lang to be pretty smooth all things considered; I was able to set up my schedule to have plenty of free time in the evenings so I could do lots of extra curriculars. My transition was definitely made a lot easier by the new friends I made both in residence and in some of my classes. The events hosted by ISO and Interhall council were awesome, and I got to explore the city of Guelph a lot which I really enjoyed. 
Share this page
Find related news by keyword
News Topics