Lang students hit a home run at MLSE Case Competition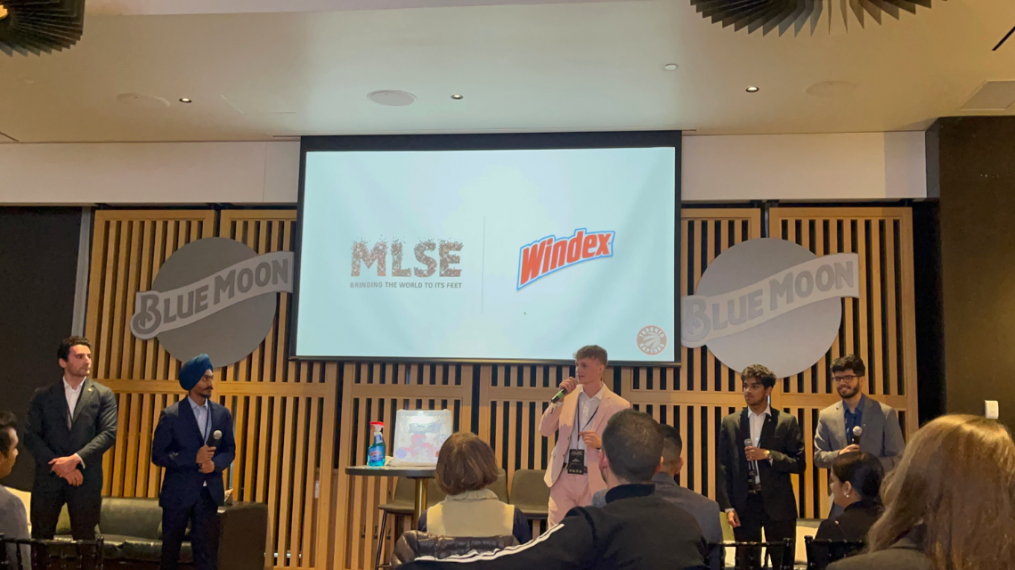 On January 28th five students from the Gordon S. Lang School of Business and Economics placed 3rd place in the National MLSE Case Competition consisting of 50+ teams all over Canada. Simone Ianniello writes about the experience and why case competitions are valuable to students' experience at Lang.
Competing in case competitions is a great way to test your skills and knowledge in an intensive, real-world simulation. As an international student from Italy, studying Food and Agribusiness, it's also a great way to make connections with classmates. On January 28th, myself and 4 other Lang Commerce students competed in the National MLSE Case Competition. I am extremely proud of our team's effort, placing third in the national competition.
The aim of the case competition is to pitch a partnership between an MLSE sports entity (Toronto Raptors, Leafs, Argonauts or TFC), and a company from a specific industry. The winning team alongside a few standout candidates would have the opportunity to interview for a summer Global Partnerships internship position. 
In the preliminary round, we chose to analyze the tire industry and pitch a Pirelli and TFC partnership, playing on the Italian connection of both entities. In the final round of competition, we created the Clearer Vision campaign, pitching a Raptors and Windex partnership. Through a great slide deck, creative real-life props and electrifying energy, our team was able to reach the status of being a top 3 team, which allowed us to pitch in front of all the teams at the event alongside top-level MLSE executives. This experience was a dream come true, being able to experience venues such as the Real Sports Bar and Grill, ScotiaBank Arena and even the MLSE head office.
Our team consisted of me, Sameer Khokhar (4th year Management Economics & Finance), Nick Metcalfe (3rd year Marketing Management), Charandeep Singh Dhillon (2nd year Sport and Event Management), Krish Goswami (2nd year Management).
What made our Lang Commerce team unique was that we had a diverse mix of backgrounds and upbringings. Our team featured students from three different continents, different backgrounds and dreams, all united in our love of sports. Whether through hockey, soccer, football, or basketball, at some point on our journey, we were introduced to the beauty of sports and its ability to instill a sense of purpose, camaraderie and belonging in people.
We decided to embrace these values in and out of the presentation room. As a group, before the competition, we knew each other, but after spending many hours and sleepless nights bringing forward our ideas and bringing our vision to reality, our bond grew stronger. Our chemistry led to reaching the top 3 in Canada, despite the fierce competition that saw us being the only Lang team going against more than 50 teams from other business schools.
As a team, we shared a competitive spirit, but this competition was not just about winning. It was about growing, creating meaningful connections and representing Lang for what it really stands for; using business as a force for good, challenging the status quo and always attempting to have a positive impact on those that we have around.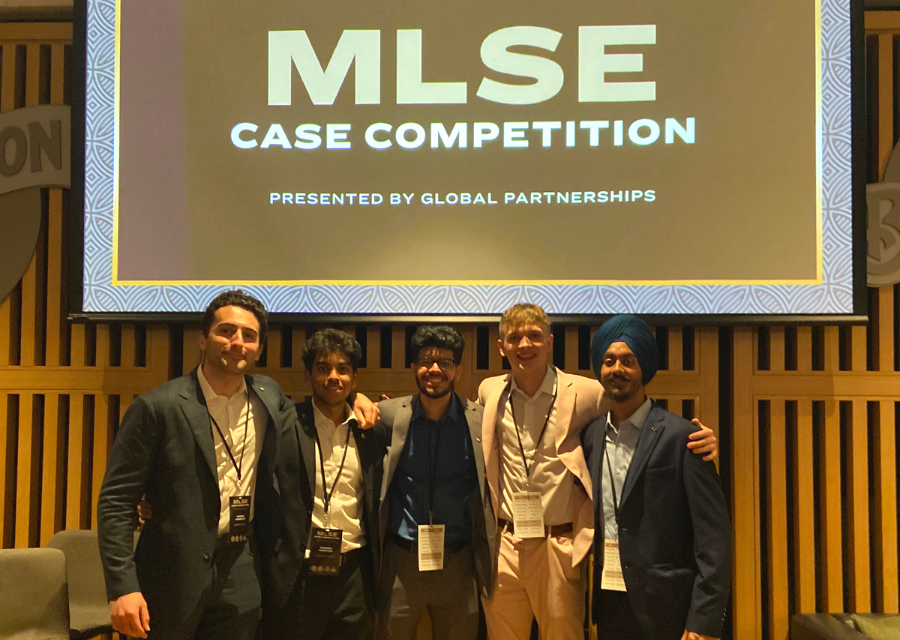 Share this page
Find related news by keyword
News Topics