"Lang's BComm program emphasizes hands-on learning and practical experience" - Arujas Saluja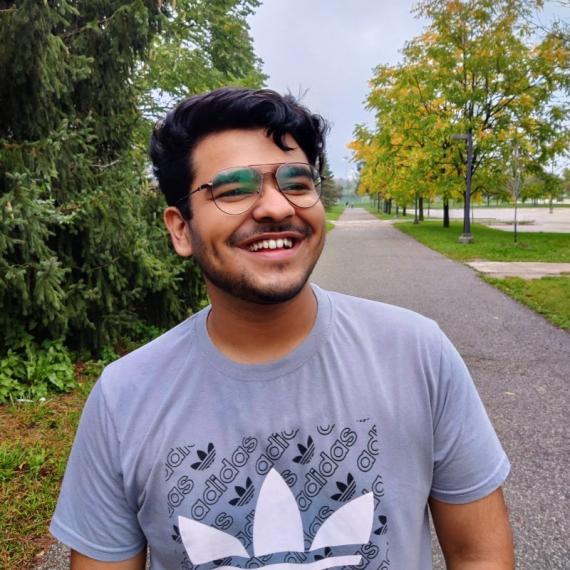 Arujas Saluja is a third year co-op accounting student, currently on a co-op term with the Canadian Revenue Agency working in taxation. Arujas plans on pursuing his CPA after he completes his BComm degree at Lang. We were able to speak with Arujas about his time at Lang and his personal experiences as an international student. 
What drew you to apply to UG and Lang?
I wanted to study with the best, and the University of Guelph tops in the national rankings of universities in Canada with top-class professors and a degree that will open up doors at interesting places. The Lang School of Business and Economics is well-regarded for its high-quality education and research and the BComm program emphasizes hands-on learning and practical experience, like co-op opportunities, that prepare me for a successful careers.
How did you find the transition to life and studies at Lang?  
Transitioning to life and studies at the Lang School of Business and Economics can be an exciting, yet challenging experience. University to me is as much of a state of mind as it is a place. When you become a university student, you do more than attend class; you enter into the world of scholars, a world that engages many cultures. To be honest, entering a new chapter was not that strenuous for me personally. Joining clubs, organizations, and student groups helped me in finding new people that aligned with my interests and building relationships with classmates was very prominent, as they provided me with support and valuable resources to navigate my studies. 
What have you learned or experienced at Lang so far that you may not have had the opportunity to in your home country?
Studying internationally offers a wider variety of courses, some of which include research opportunities and skill-based training for students. This broadens your perspectives and opens the door to a world of new career prospects.

Studying at Lang expanded my horizons and opened up a world of new educational opportunities. In addition to its academic programs, the Lang School of Business and Economics is also involved in community outreach and engagement which creates a welcoming and inclusive environment for international students. 
---
Interested in attending UG Lang?
Learn more about being an international student at UG Lang
---
Have you had any memorable experiences with classmates or in Guelph that have added to your university experience?
I have had many memorable experiences with classmates here at the University of Guelph. One of the momentous occasions was celebrating my birthday away from my home country. Celebrating birthdays back in my home country was a chance to step out of the mundane and focus on sharing joy and celebration. Experiencing the same love here from my great classmates was so wonderful!
What advice would you give to other international students considering attending Lang? 
My advice to other international students considering attending Lang would be to plan ahead, build a support system which can help you integrate with the community, manage your finances by creating a budget and sticking to it, and use the resources available to you by Lang School of Business and Economics.
How do you plan to apply what you have learned at Lang in your future career?
During my time at the University, I was exposed to a wide range of subjects, theories, and practical applications related to my field of study. I intend to become a Certified Public Accountant (CPA) in the near future. An individual's professional skills are extremely important to be successful. 4 skills that I developed at the university that will advance my career are leadership and communication, ethical decision-making, and technical accounting.
Share this page
Find related news by keyword
News Topics