Leading with resilience and grit: Olympic soccer star Diana Matheson keynotes HeForShe event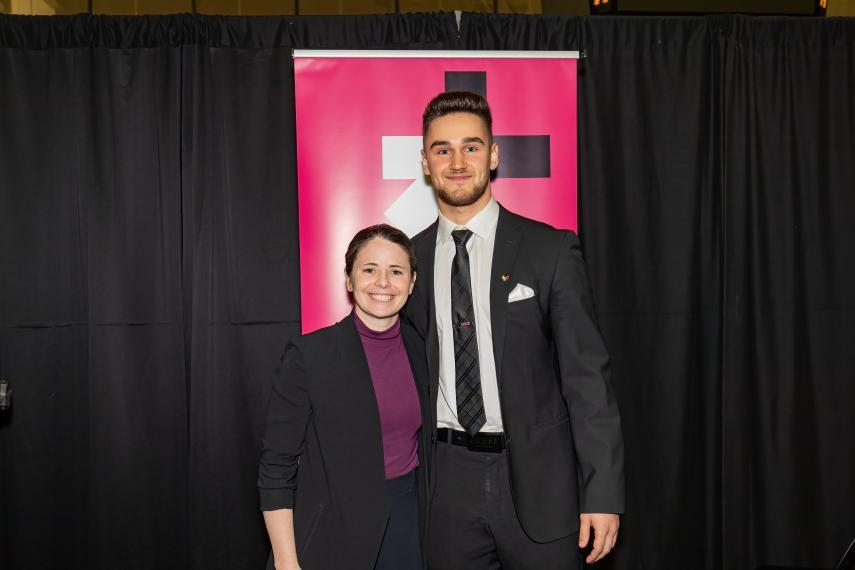 On Wednesday, March 22nd, the University of Guelph welcomed two-time Olympic bronze medalist and former professional soccer player Diana Matheson to campus as the keynote of the annual HeForShe gender equity event.
Matheson, perhaps best known for scoring the game-winning goal in the bronze medal match in the 2012 London Olympic Games, is also the co-founder of Project 8, an initiative to help launch Canada's first women's professional soccer league.
During her keynote, Matheson discussed the gender equity challenges that women athletes face in professional sports - a timely topic, as Canada's women's soccer team is currently protesting their pay in comparison to that of the men's national team.
The annual event is a collaboration between the Gordon S. Lang School of Business and Economics, Gryphon Football and the U of G's Engineering School.
"I am aware of the privilege I have as a male athlete, and as an ally to the sports community that I must listen and take purposeful action to champion diversity and gender equality," says Commerce student and football player Spencer Kennedy, who addressed the crowd of over 200.
In addition to Matheson's keynote, the event was also a chance to announce the recipients of several gender equity scholarships and awards, including:
Diana Matheson Resilience Scholarships: two $5,000 scholarships awarded to a female business student and engineering student to recognize their leadership and resilience. The recipients of these scholarships are Daphne Vescio (Bachelor of Commerce) and Hallee Woodard (Bachelor of Engineering).

HeForShe Ally Scholarship: a $2,500 scholarship awarded to a University of Guelph student who has demonstrated through their actions and support that they are an ally committed to gender equality. The recipient of the HeForShe Ally Scholarship is Sarah Ribey (Applied Human Nutrition).
HeForShe Impact Award: an award to recognize a local Guelph-Wellington organization that actively promotes and improves gender equality through initiatives they champion. The recipient of the HeForShe Impact Award is Linamar. Through educational programming, apprenticeships and donations, Linamar Corporation is helping increase female proportionality in leadership by attracting more female youth into manufacturing and technology. A $2,500 donation was made to Michael House Pregnancy and Parenting Support Services on behalf of Linamar.
Prior to the event, Lang's Wood Centre hosted a workshops that aimed to improve gender inclusive language on campus. The discussion invited U of G students, staff and faculty members to take part in the conversation.
We sat down with members of our University of Guelph community to talk about how they're improving gender equality on-campus.
Share this page
News Topics