Lang Leadership Conference explores how to thrive in uncertain times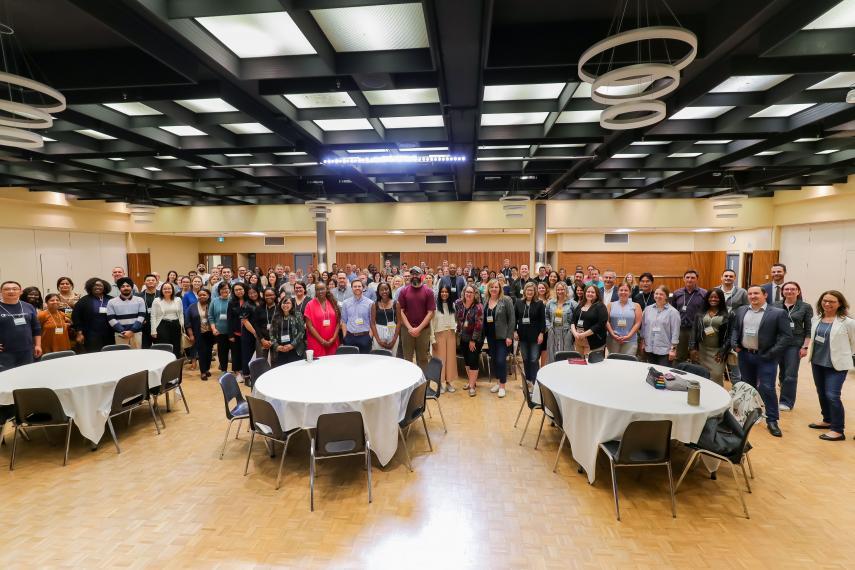 Leading with compassion and humanity is key to thriving during uncertain times.
That was the message that Lang professional program students heard during the annual Leadership Conference. The theme of this year's annual conference was "thriving in uncertainty."
Speaking at the Leadership Conference were leaders from government, education, leadership, consulting, business and technology discussed how to lead through uncertain times and the skills required to thrive in the future. The Conference included remarks and presentations from Dr. Dianne Saxe, Deputy Leader of the Ontario Green Party, Jennifer Moss, award-winning writer and workplace culture strategist, David Butler, Asset Manager at InnVest Hotels, Ivan Wain Ruiz, communications expert and Kerry O'Brien, talent development lead at Axonify. The Conference also included the expertise of Lang faculty including Drs. Rumina Dhalla, Jamie Gruman, Ruben Burga and Nita Chhinzer.
Students and alumni from Lang's MBA, MA in Leadership and new Masters in Project Management participated in workshops, lectures, networking events and keynote presentations. Each element of the Conference provided attendees with the knowledge, skills and tools to excel in their studies and make an impact in their career.
Leading with compassion 
The importance of leading with compassion and an ethic of love was at the heart of many lectures and sessions during the Conference. This is a stark contrast to traditional approaches to a corporate business strategy where profit supersedes human capacity.
"I was thrilled to learn about topics such as leadership and love, human spirituality and reframing messaging to employees. As a professional who has worked with leaders that just care about the bottom line and spy who is late in the office to judge their commitment, I feel that spark of hope knowing that science is on that."

D. Perdigao
Procurement, international trade and management expert
MSc Management
Beyond the classroom 
Over the four days of the conference, attendees had the chance to interact with each other, as well as with Lang faculty members, professional associations, such as the Project Management Institute and executives from Lang's industry advisory board. These connections that students made outside of the classroom were just as valuable as their learning that occurs inside the classroom. Students left the Conference with a network of support in both their personal and professional life.
"The conference presented several opportunities to connect with my classmates, to improve my soft skills, and to learn about sustainability without fearing about a grade. These connections and this conference is the exact reason why I chose the Lang MBA program."

K.Weston
IT and cybersecuirty expert
MBA 
Share this page
News Topics