Economics professor Rene Kirkegaard receives Canada Research Chair renewal from Industry Canada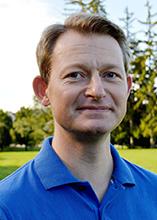 Economics professor Rene Kirkegaard will continue his research surrounding online contests and auctions as a Canada Research Chair (CRC). The renewal of his CRC was announced April 9 by Ed Holder, minister of state (science and technology).
Kirkegaard holds a Tier 2 chair in risk management and regulation and will receive $100,000 a year for five years. Tier 2 chairholders are recognized as potential world leaders in their fields.
The CRC program started in 2000 to help universities attract and retain faculty. This funding announcement totalled $139 million, with an additional $7.6 million in infrastructure support provided by the Canada Foundation for Innovation (CFI), in support of 150 new and renewed CRCs at 36 post-secondary institutions across the country.
Share this page
Find related news by keyword
News Topics