Dec. 14: First-year business students launch ventures in support of entrepreneurs in need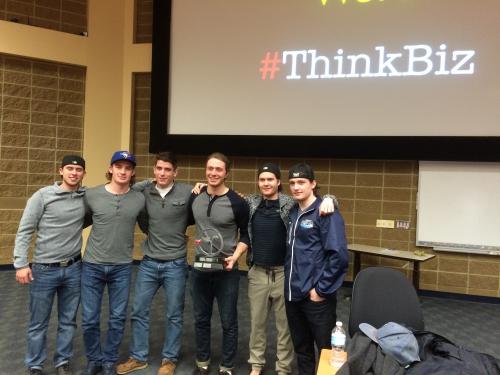 For the third consecutive year, first-year business students at the University of Guelph have launched their business ideas in support of women entrepreneurs in developing countries through the Micro-Tyco challenge. Run by the WildHearts charity, the international challenge provides one dollar in seed capital to participants to start their venture and raise as much money as possible in a month. This year, ten groups of students raised more than $4,700, and in total the University of Guelph has raised approximately $25,000 in support of the cause since 2013.
"Micro-Tyco does great work around the world to support entrepreneurs in need," said Introduction to Business professor, Trent Tucker. "In addition to raising money for this cause, business students also gain valuable firsthand experience running a business and an understanding of what it takes to make that business succeed."
This year's business ideas included Gryphon refrigerator wraps, winter comfort kits and Gryphon mittens, among other products and services. The winning idea was a venture called "Shutter Sustainability" which sold photo prints online and gave new life to print stock that was destined for the garbage. The team consisted of five students - Stefano Pezzetta, Ryan Burns, Tyler Burns, Jason Da Silva and Cameron Palmer - who leveraged a "pay what you can" model and raised $3,100. While competing in the challenge came naturally to them – they are all hockey players – the opportunity to raise funds for charity was a highlight of the experience.
"When we heard about the Micro-Tyco competition we were instantly intrigued," said Pezzetta. "We have always had an interest in business and entrepreneurship and the fact that this was a competition fueled us. Although we love competing, the best part about Micro-Tyco was the fact that all proceeds go to WildHearts."
The challenge also allowed the team to develop new skills and capitalize on the existing abilities of its members. For example, nobody on the team had previous experience with sales, but by working collaboratively they were able to develop a successful business model that allowed them to target different customer segments. Furthermore, the inspiration behind their business idea was one member's passion for photography, which offered them a unique skill set that gave them an edge in creating their product.
"I think the most valuable takeaway from this was the ability to sell and market a product. No one on our team had previous selling experience yet we were able to work together, use our skills and sell our product successfully," Pezzetta added. "This skill is vital in business and will be useful in our future business endeavours."
WildHearts was founded by Mick Jackson, a University of Guelph honorary doctorate recipient. To learn more about the charity and Micro-Tyco, visit the WildHearts website. Learn more about previous University of Guelph participants on our YouTube channel.
Share this page
News Topics