Feb. 26: College of Business and Economics mourns the loss of two students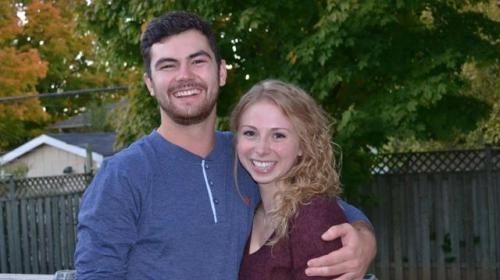 The faculty, staff, and students in the University of Guelph's College of Business and Economics are deeply saddened by the devastating loss of one of our fourth year Management Economics and Finance (MEF) majors, Zach Sutherland, and his girlfriend Kaya Firth.  Kaya's brother Jackson Firth is also studying business at Guelph (a second year MEF student).  We extend heartfelt sympathies to both families for their tragic and unimaginable loss.
Zach is fondly remembered by the faculty as a serious and dedicated student with a quiet winning personality and an infectious smile. His teachers found him to be engaged, responsible and polite; a student who could be counted on to contribute relevant examples to class discussions and make presentations to his peers with confidence and grace.  He was also known for following-up with faculty outside of class in order to explore questions of personal interest.  One professor described Zach as "a very gentle person - very much a young gentleman" noting that "there was something in his manner and his demeanour that made him particularly memorable".
Students equally valued Zach. When I asked for comments on Zachary as a friend and a classmate, I received a number of contributions that were truly heart wrenching.  I have included two below:
I first met Zach on move in day at the University of Guelph. He lived right across the hall from me, along with two other boys that would instantly become great friends with my roommates and me. Almost immediately I felt his warm and generous personality, and I knew we would be great friends.  No matter who you were or where you came from he was able to charm you with his sincere interest in his conversation with you. We would later dub him "Father Zach" because he gave us all his greater perspective and advice on life and relationships. He had a confidence in himself that most people strive to achieve throughout their entire life, but his was intrinsic. Zach will be missed most for his passion and ambition for his future, the infectious laugh he possessed (even before the punch line of the story was delivered), and his genuine love for his family and his friends, and the Blue Jays.
Zach Sutherland was one of the most positive, well-rounded, intelligent people I have ever met. Zach excelled at literally everything he put his mind to. He loved basketball, golf, swimming, and all things to do with the outdoors. He often talked of his entrepreneurial goals and had made plans to create a company with one of his friends in the field of real-estate upon graduation. We all often discussed how Zach would be the most successful of us all due to his unrelenting work ethic. Zach was able to talk with anyone, easy to open up to, and loved engaging in deep debates with those around him. Zach was not afraid of anything and was the positive light in all of our lives.  He will be missed more than words can express.
We didn't know Kaya well (a 4th year English major), but accounts of her life suggest she was a remarkable young woman who was fully engaged in university life, and that Zach and Kaya were exceptionally fortunate to have known each other.
A bright future lay ahead for both Zach and Kaya and we are profoundly saddened by the loss of that possibility for them and their families. We hope their loved ones will find strength in the memory of the wonderful though all too short lives that these young people lived.

Mike Hoy, Chair, Department of Economics and Finance
Julia Christensen Hughes, Dean, College of Business and Economics
Share this page
News Topics