Hotelier icon, Michael Beckley, to be honoured as HFTM's 2017 Executive-in-Residence
Hotelier icon and 2016 Pinnacle Lifetime Achievement Award recipient, Michael Beckley, has been named the School of Hospitality, Food and Tourism Management's Executive-in-Residence for 2017. From March 14th to 16th, Beckley will be visiting the University of Guelph to share his experiences and offer advice to Hospitality and Tourism Management students. Beckley is currently serving as Director, CBRE Hotels, and was formerly the Senior Vice President, Lodging Development for Marriott Hotels of Canada.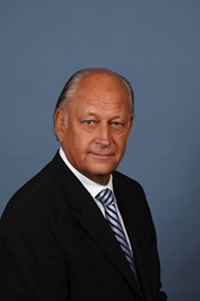 "Michael will share with us his vast experience gained over five decades in the hotel industry," says School of Hospitality, Food and Tourism Management Director Statia Elliot. "He is a man of true distinction and his mark on our industry is truly impressive."
Over Beckley's extensive career, he has held various senior positions within the industry in Europe, Bermuda, the West Indies and Canada. Beckley's involvement in the industry in Canada has been wide-ranging over the past 34 years and includes serving as Chairman of Experience Canada. His time as Chairman led to the foundation of the Canadian Tourism Commission and he also served as Chairman of Ontario's Tourism Strategy under the Premiership of Bob Rae.
After joining Marriott International in 2001 he had overall development responsibility for all of its hotel brands in Canada. These included Ritz Carlton Hotels, Ritz Carlton Residences, JW Marriott Hotels and Resorts, Renaissance Hotels and Delta Hotels as well as all of Marriott's Select Service brands Courtyard, Residence Inn, Fairfield Inn and Suites and Towne Place Suites. During his tenure at Marriott, he grew its Canadian presence over twentyfold from 17 hotels to 145.
Share this page
News Topics