Students collaborate to bring sustainable business to Haitian entrepreneurs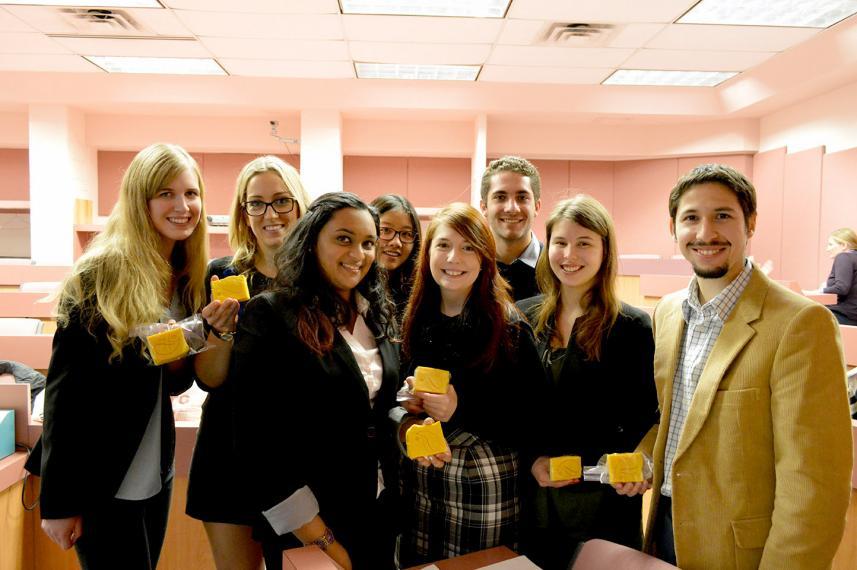 University of Guelph commerce students are getting their hands dirty building sustainable business opportunities…with soap.
A new brand of goat's milk soap is quickly developing roots at U of G thanks to a project being led by geography PhD candidate Jennifer Vansteenkiste who is collaborating with a team of students from accounting, marketing, leadership and organizational management, food and agricultural business and food science. Throughout the fall semester, they researched the best strategies for helping Haitian entrepreneurs produce goat's milk soap and export it to Canada.
In addition to making the soap and identifying its health benefits, the students projected revenues and production costs, identified quality standards, examined requirements for importing and exporting and created a marketing strategy.
"We chose to pursue goat's milk soap as a possible export because while goat's milk isn't consumed in Haiti, goats are quite common," said Vansteenkiste. "Many Haitians currently purchase imported soap, but the soap making process is part of living memory for them. I think our research shows that there is great potential to make it a popular local and exported product." 
All profits will be reinvested in the Haiti Food Hub, a social agri-business enterprise founded by Vansteenkiste, but the soap itself will have its own brand under the name Lavni which means "future" in Creole. The word also sounds similar to the French verb "laver" meaning "to wash."
According to Elliott Currie, associate professor in the Department of Management and faculty advisor for the business school participants, "This business idea is different in that we are creating a product that we hope to import to Canada from Haiti, not export from Canada to other countries."
He added, "For students, this is a learning experience that is unique to U of G. To create a sustainable product and then apply everything you've learned in the classroom to prepare it for market is an incredible opportunity that demonstrates how business can make a positive impact."
The scope of the project runs campus wide at U of G with more than 20 students and faculty participating in some way. Business students involved in the development of Lavni include: Ashley Harnarine (Leadership and Organizational Management), Sarah Knox and Sarah Taliano (Marketing), Eric Tuffnail, Bailey Sherrat, Ruoyi Wang (Accounting) and Emma Burger (Food and Agricultural Business).
Food Science MSc student Abraham Navarro also advised the group on importing soap to Canada and which products will be best to target next.

The project will continue into the winter semester as Vansteenkiste proceeds with creating a business plan. More students from the College of Business and Economics will be working to bring Lavni closer to local store shelves.
Share this page
News Topics