Jan. 20: MGMT*1000 students raise $10,000 for charity, win Micro-Tyco international category for second consecutive year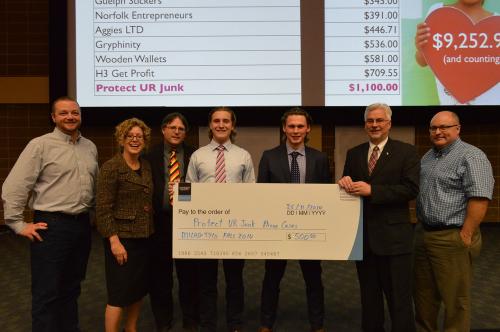 What would you do with $1?
Last fall, students in professor Trent Tucker's MGMT*1000 class worked to turn $1 loans into profitable businesses through the Micro-Tyco Business Challenge. Micro-Tyco, which is run by the WildHearts charity, is a global competition that invests the money raised by participants into micro-loans for entrepreneurs in developing countries.
After a semester of selling products and services, students raised more than $10,000 for WildHearts and won first place in the competition's international category for the second consecutive year.
"Micro-Tyco gives students a multitude of opportunities," said Tucker. "In addition to raising funds to support entrepreneurs abroad, they apply business principles, learn how to market a product and form an understanding of what it takes to make a business succeed."
The winning team in Tucker's class sold Gryphon phone cases and raised more than $1100. Students Nicholas Stais, Miguel Maese, Harrison Potter, Brianna Kupiec and Josh Lake took home a $500 grand prize for their successful business.
"Through Micro-Tyco I learned the true importance and utility of having a supportive and reliable team and realized how rewarding and exciting running my own business could be," said Lake. "I can't stress the importance of participating in the Mirco-Tyco challenge. It's truly an amazing initiative and phenomenal learning experience."
Other ideas included silk flower arrangements, temporary tattoos, ticket raffles, t-shirts, holiday gift labels and water bottles. In 2013, the winning team sold Gryphon laptop cases and raised almost $3,000. Over the two years, U of G business students raised almost $20,000.
"In the two years we've been participating in Micro-Tyco there has been a wide range of ideas, as well as a range of profits and losses," said Tucker. "Students are working with real money, real suppliers and real consumers. It's applied learning at its best."
WildHearts was founded by Mick Jackson, a recent honorary doctorate recipient at the University of Guelph. To learn more about the charity and Micro-Tyco, visit the WildHearts website.
Share this page
News Topics