Students bring home multiple medals from case competitions in Toronto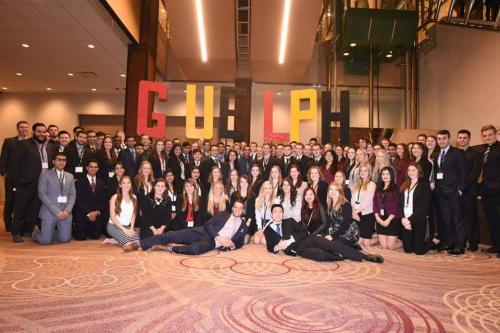 Photo caption: The DECA U Guelph delegation strikes a pose at the provincial competition in Toronto. Photo credit: David Blampied
University of Guelph business students brought home a total of nine medals from the DECA U provincial competition last weekend. After competing in a diverse range of categories, Guelph won six gold, one silver and one bronze medal, in addition to being recognized for an impressive increase in their membership. See below for a full list of awards from the competition.
Approximately 1500 students from universities across the province competed at the annual event, 140 of which came from the University of Guelph delegation. Students spent months preparing for the competition that took place at the Sheraton Centre in downtown Toronto. Up to 10 DECA U Guelph delegates will go on to compete at DECA U's international case competition in Washington, D.C. this April.
"Our delegation worked very hard over the past four months to prepare for the DECA U Provincial Competition," said team captain Sarah Murray. "We had three directors of training, as well as the rest of our dedicated executive team, who trained our delegates for the case portion of the competition. Overall, we could not be more proud of the whole DECA U Guelph delegation and I could not have asked for a more successful weekend. Congratulations to all DECA U Guelph delegates."
Hussein Yassin, founder of DECA U Guelph, added, "It's great to see how far the DECA U Guelph chapter has come. We began with 22 members the first year, and with so much hard work and dedication we were able to bring our chapter to its feet and make it what it is today. It's great to see U of G business students excelling in this segment of business academia."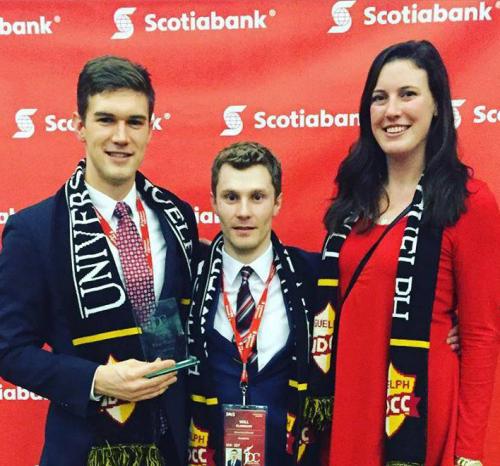 In addition to the DECA U competition, University of Guelph commerce students also competed at Jeux du Commerce Central (JDCC) earlier this month in Toronto, where the finance team won gold. Congratulations to team members Kyle MacKenzie, Will Flanigan and Emily Allan on this outstanding achievement.





Photo caption (left): JDCC winners Kyle MacKenzie, Will Flanigan and Emily Allan
DECA U Guelph results
Jason Au - 1st Place for Written Component in Human Resources Management
Emily Kaldis - 3rd Place Overall (Written & Case) in Retail Management
Taylor Hiltz & Kaitlin Lawless (Partnered team) - 1st Place for Case Component in Sports and Entertainment Marketing
David Blampied & Kurt Gibbons & Quyen Trinh (Partnered team) - 2nd Place for Ad Campaign
Jacqueline Simard - 1st Place for Written Component in Hospitality and Tourism Management
Shanen McPherson - 1st Place for Written Component in International Marketing
Zehra Karagoz - 1st Place for Case Component in Business Financial Services
Jaskaran Saini - 1st Place for Case Component in Accounting
Chapter Award - Largest Actual Increase of Members from the Previous Year amongst all Universities in Ontario
Share this page
News Topics