July 29: Celebrate Canadian food August 1 with Food Day Canada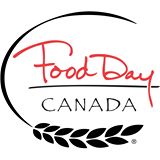 A massive celebration of Canadian cuisine will take place across the country this Saturday. Food Day Canada, which was founded by University of Guelph food laureate Anita Stewart, is the country's largest culinary party, which celebrates our farmers, fishers, chefs, researchers and home cooks with Canadian-inspired menus.

This year, chefs are marking Food Day Canada with events ranging from a meal for 7,000 hungry oilsands workers near Fort McMurray to a two-day East Coast party in St. John's. Approximately 250 restaurants across Canada are expected to recognize the day with special menus that highlight Canadian ingredients.

Launched in 2003 as the World's Longest Barbeque to support farmers in the aftermath of the mad cow crisis, Food Day Canada has grown into an annual celebration that encourages all Canadians to discover and share local ingredients.

Hosting a Food Day Canada party? Share your menu on social media using #FDC2015 and tag @FoodDayCanada. Learn more about this growing annual tradition on the Food Day Canada website and in this article from CTV News.
Share this page
News Topics