June 10: CBaSE and Innovation Guelph embrace commonalities, cultivate entrepreneurship on campus and across the community
For five years, the Co-operators Centre for Business and Social Entrepreneurship (CBaSE) and Innovation Guelph (IG) have enjoyed a burgeoning relationship focused on fostering the University of Guelph and the city of Guelph's vibrant entrepreneurial communities. CBaSE, an on-campus centre that offers commerce students opportunities to engage in applied projects, and IG, a local catalyst for entrepreneurial initiative, share a connection that has quickly become increasingly strategic, multidimensional and mutually beneficial.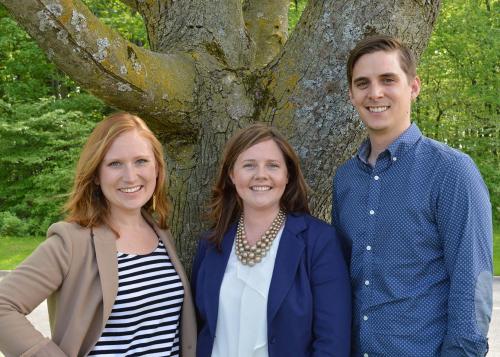 Throughout their relationship, CBaSE and IG have experienced synchronous growth on different levels, with CBaSE focusing on student education and entrepreneurship, and IG working with businesses that are further advanced in their development. It's a bond that IG client services manager Kevin Boon describes as "positive, reinforcing and rewarding because both organizations hold similar values and provide programs that focus on specific goals and outcomes."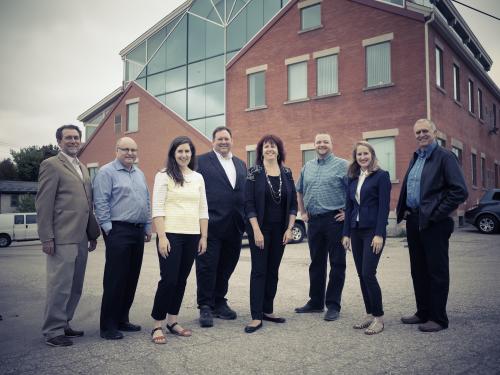 For CBaSE director Melanie Lang, IG has become an extension of the CBaSE team. "Since CBaSE launched in 2009, new opportunities have continuously surfaced that have allowed us to combine resources and connect students with experienced entrepreneurs in the community."
CBaSE and IG's partnership took on another form recently with the launch of the Hub Incubator Program, a new initiative that will see five businesses in their infancy receive meeting space, funding and mentorship. For CBaSE, this is another avenue through which it can support the innovation of U of G students, and for IG it's an opportunity to connect with what could be the next generation of Guelph entrepreneurs and IG members.
The Hub program will match its students with mentors from IG who either run their own business or have done so in the past. They will provide one-on-one advising - a service that could help newcomers avoid repeating costly mistakes that established business people have already experienced.
Lang emphasizes that both parties find mentorship rewarding, "Students gain the priceless knowledge of an experienced professional and entrepreneurs get the chance to share their experience and ultimately benefit the business community that supports them or has supported them in the past."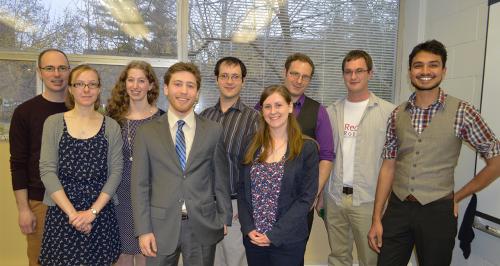 In addition to mentoring, IG members and staff have also judged pitches for the Hub, acted as panelists for CBaSE events, co-sponsored the Bigger Picture Series and provided feedback on CBaSE projects. The result is a growing buzz of entrepreneurship at U of G, a reality that shows in the numbers.
"Over the past year, Innovation Guelph has seen a 15-20% increase in new clients who are recent University of Guelph graduates," says Boon. "CBaSE provides a much needed service within the Guelph community for students who want to explore their creativity and expand their ideas."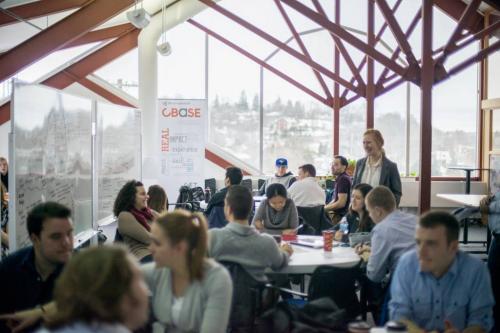 With these numbers, the effects of IG and CBaSE's connection are undeniable. As more business ideas with roots on U of G's campus continue to grow in the community, it can only be expected that entrepreneurial innovation will have a more defined place inside the classroom and beyond.
Visit Innovation Guelph and CBaSE's websites to learn more.

Photos from top to bottom: U of G's CBaSE team, Innovation Guelph, the first Hub Incubator Program cohort, CBaSE event held at IG headquarters.
Photo credit for Innovation Guelph team photo: Chris Tiessen.
Share this page
News Topics