MBA graduate Justin Toth wins Best Student Paper at ASAC Conference; College of Business and Economics takes home Research Excellence Award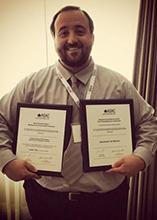 What does accountability mean in a sport organization for a team coach? MBA alumnus Justin Toth explored this question in his paper at the Administrative Sciences Association of Canada (ASAC) Conference in Halifax, Nova Scotia this week, where he was the proud recipient of the Best Student Paper award.
Toth, who works with the University of Guelph's Department of Athletics as supervisor of Intramurals, Clubs, Camps and Community Leagues, competed against master's and PhD students from other institutions for the award.
"I found the ASAC conference to be a very rewarding experience," said Toth. "I was able to consult with academic experts in the field of sports management to strengthen my research paper and gain valuable insights into the area of accountability and leadership theory in sports."
In conducting his research, Toth interviewed sport coaches, players and managers of a sport organization to assess the coaches' accountability relationships and define their perceptions of felt accountability. The paper, titled "Accountability in Sport Organizations: Defining the coach's role and evaluating the efficacy of existing approaches," revealed the presence of accountability gaps as well as varying perceptions of felt accountability among sport coaches.
In addition to Toth's paper, the University of Guelph received ASAC's Comprehensive University Research Excellence Award that recognizes the institution with the highest number of papers presented at the conference.
Share this page
Find related news by keyword
News Topics