Nov. 10: College of Business and Economics faculty make national headlines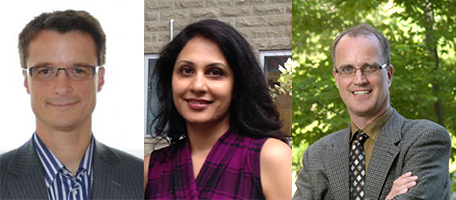 Three College of Business and Economics faculty were recently quoted by national media outlets on the TPP, layoffs and tipping.
Professor Sylvain Charlebois from the Department of Marketing and Consumer Studies was interviewed by Canadian Press on the future of dairy imports under the Trans-Pacific Partnership. According to Charlebois, dairy imports will increase by four per cent, a number he says is not insignificant. He also spoke to the Harper government's promise to compensate Canadian farmers, something the Trudeau government will have to address.
Professor Nita Chhinzer from the Department of Management, was quoted by Maclean's Magazine about layoffs in the digital era. In the article, Chhinzer comments on the technological complexities of downsizing, specifically revoking access to computer accounts, a process she calls a "double-edged sword for managers." She adds that if access is taken away too early, employees might find out prior to being officially notified; however, if access it taken away too late, it becomes a possible PR risk for the company.
Professor Mike von Massow from the School of Hospitality, Food and Tourism Management, spoke with CTV News about tipping in restaurants. The article covered Amaya restaurateur Hemant Bhagwani's decision to get rid of tipping in an effort to retain kitchen staff. Von Massow, who researches tipping, says the move should help lower turnover common in restaurant kitchens, because it will help give workers at the back of the house better wages. Earlier this month, von Massow and professor Bruce McAdams also wrote a Globe and Mail article about revamping the tipping model.
Share this page
News Topics