Ontario Hostelry Institute opens nominations for 2017 Top 30 Under 30 awards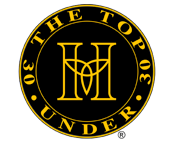 Since its inception in 2006, the Ontario Hostelry Institute's (OHI) Top 30 Under 30 program has recognized young talent in the hospitality and foodservice industries, many of whom are graduates of the University of Guelph's School of Hospitality, Food and Tourism Management. The OHI has again opened nominations for this annual award that aims to recognize enthusiastic and energetic up-and-comers and encourage their continued development into future industry leaders.
Top 30 Under 30 recipients are chosen based on their success in their current roles, as well as what each one brings to the industry through leadership opportunities, community involvement, industry development and/or mentoring. Each nominee is required to submit a portfolio that illustrates how they excel in their careers. The selection committee consists of 20 industry leaders who review the more than 100 portfolios submitted each year.
The deadline for nominations for the 2017 Top 30 Under 30 list is December 30, 2016.
For more information on the program and nominations, please visit the OHI website.
Share this page
News Topics