College of Business and Economics submits Responsible Management Report to the UN/PRME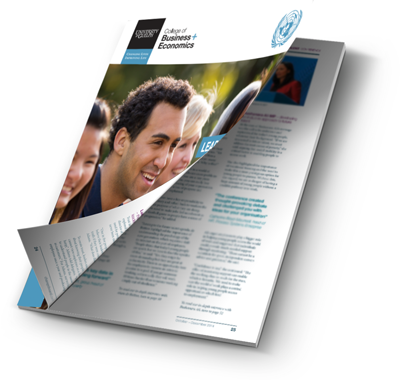 The College of Business and Economics has submitted its Sharing Information on Progress (SIP) report to the Principles for Responsible Management Education (PRME), an initiative of the UN's Global Compact. A central commitment of any institution participating in the initiative, the SIP report serves as a public vehicle for information on responsible management education and is an effective tool for facilitating dialogue among stakeholders and fellow signatories of PRME. It aims to share information regarding the progress made in implementing the six principles of PRME: purpose, values, method, research, partnership and dialogue.
"This report is a reflection of our commitment to embracing and upholding the principles of PRME across our business curriculum, diverse research interests and applied learning opportunities," said Julia Christensen Hughes, dean of the College of Business and Economics. "The values and mission of our college naturally align with these principles. We're proud to submit this report to PRME and release it to the public."
The PRME initiative launched in 2007 at the UN Global Compact Leaders Summit in Geneva. It is the first organized relationship between the United Nations and business schools, with the PRME Secretariat housed in the UN Global Compact Office. The College of Business and Economics has been a signatory since 2012.
View the College of Business and Economics' SIP report on issuu.
Share this page
News Topics