Students bring home gold at national real estate competition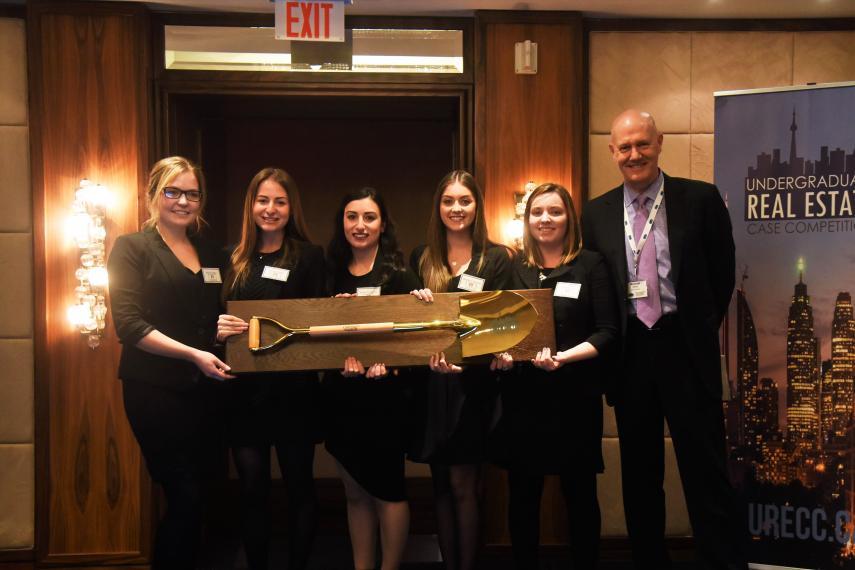 Real estate and housing students gained some valuable experience in urban property development recently at the Undergraduate Real Estate Case Competition (URECC) in Toronto. University of Guelph teams brought home first and second place, in addition to a number of class awards after presenting to a panel of industry leaders. Organized by University of Guelph Real Estate and Housing students, the URECC welcomed seven teams from five universities across Canada who took on the challenge of preparing a comprehensive bid for a prime redevelopment opportunity in Toronto.
The case, which was written by professor Avis Devine, required students to investigate all angles of redeveloping a site in the transitioning neighborhood of Corktown. They spent two-and-a-half months researching their ideas and conducting legal, physical and financial analyses to create comprehensive bids. According to Devine, students had to produce a proposal that would appeal to investors while considering the competitive bidding process.
"Students were asked to propose a development that would both provide a return sufficient to attract an equity investor while also supporting a land purchase price that would be high enough to win a bidding competition," she said. "The U of G teams represented the university very well, providing thorough analysis of the market, zoning environment, and financials, as well as delivering this analysis in a convincing and polished sales pitch to prospective investors."
The winners were chosen through a blind judging process by a panel of real estate professionals: Michael Emory, president and CEO, Allied Properties REIT; David Chalmers, vice-president of asset management, Starlight Investments; Dermot Sweeny, president and principal, Sweeny &Co; and Richard Joy, executive director, ULI Toronto. According to Devine, the winning team from Guelph, H&H Group, impressed the panel with their strong and collaborative presentation.
"The judges were particularly taken with the strength of the winning team's presentation, noting that the all-women team fluidly shared the presentation content rather than each presenting one section," she added. "This collaborative tone highlighted their holistic approach to the proposed development and set them apart from the competition."
The winning proposal, created by H&H members Carmen Siegel, Elise Karklins, Lindsey Lippert, Nicole Tortorici and Rachelle McLean, was a mixed-use building called Blackburn Corner. It combined rental apartments, retail and office development and was sensitive to the historic community area and incorporated a variety of sustainable elements including a living wall.
"The proposal took a lot of creativity and research," said Siegel. "Through teamwork and collaboration we were able to put together something we are so proud of and we are so happy it was recognized by industry leaders at URECC!"
This year marked the second URECC, which was launched by University of Guelph Real Estate and Housing students in 2015 and expanded this year to include other universities. The organizing committee raised more than $40,000 for the competition and hopes to expand it even further next year.
"URECC is designed to bring together the top real estate students from across Canada with leaders from the real estate industry," said Samuel Ives, REH student and one of the URECC organizers. "This past competition took a year of planning and we are looking to expand the event next year to an international setting. We are excited to grow URECC into a prominent event for real estate students across North America."
View photos from the 2016 Undergraduate Real Estate Case Competition on our Facebook page.
Undergraduate Real Estate Case Competition Results
First place: H&H Group (University of Guelph)
Carmen Siegel, Elise Karklins, Lindsey Lippert, Nicole Tortorici, Rachelle McLean
Second place: Features Enterprise Limited (University of Guelph)
Andrew Eberhard, Lucas DeBiasio, Maxwell Langridge, Ryan Malenfant, Maclean Tallis
Third place: The Martello Group (Queen's University)
Aiden Lupyrypa, Brittany Lee, Nolan Schwab, Phil Smith, Siavash Kianpour
Class Awards
Deloitte Best Speaker Award: Elise Karklins, H&H
Oxford Financial Analysis Award: Features Enterprise Limited
Reid's Heritage Homes Sustainability Award: Features Enterprise Limited
Thank you to all of the sponsors and supporters who helped make URECC a success this year.
Sponsors
Allied Properties REIT
Starlight
Deloitte
Oxford Properties
Reid's Heritage Homes
CBRE
Centre for Business and Student Enterprise (CBaSE)
Westbank
GreaterTorontoLand.com
MarshallZehr
GWL Realty Advisors
Colliers International
Cushman and Wakefield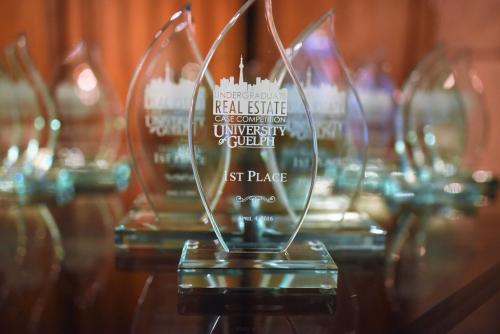 Photo caption: URECC trophies. Photo credit: David Blampied
Share this page
News Topics