Faculty, student attend PRME Global Forum in NYC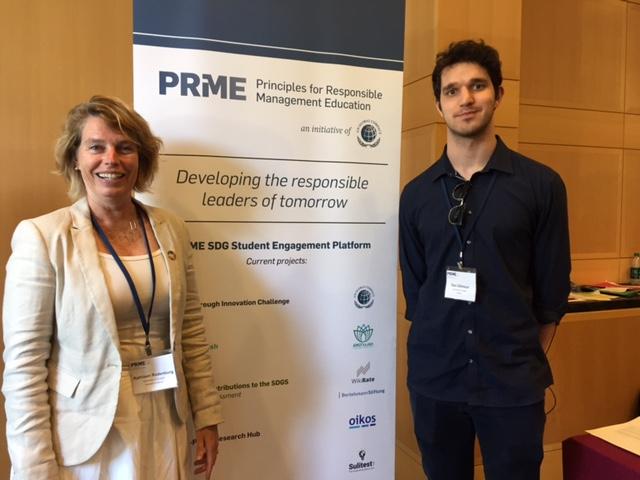 College of Business and Economics professor Kathleen Rodenburg and third-year Accounting student, Dan Gilmour attended the PRME Global Forum in New York City this week, joining more than 300 attendees who are helping to shape the future of business and management education, and support the global effort to achieve the United Nations Sustainable Development Goals (SDGs).
While at the Forum, Rodenburg and Gilmour had the opportunity to celebrate the 10th anniversary of the Principles for Responsible Management Education (PRME) while networking with fellow scholars and students, in addition to guests from the United Nations, private sector, civil society and media.
Gilmour was also a presenter at the Student Engagement Platform Session where he spoke about his experience writing an innovation story with fellow students on Lucky Iron Fish™. The story earned the social enterprise one of 17 inaugural Flourish Prizes from AIM2Flourish that recognizes innovations from around the world that align with the SDGs.
"Educators are increasingly seeking the voice of the next generation in an effort to better understand how we are engaged," said Gilmour. "While it is not our role as undergraduate students to change the criteria for learning nor the knowledge being imparted, it is essential for us to define the context under which we begin to accept this knowledge as part of our world and as part of ourselves. The information shared with us can only be transformed into wisdom through dialogue."
The College of Business and Economics will continue to recognize the SDGs at the PRME Regional Meeting North America being held at the University of Guelph in October. Registration is now open for this two-day event that will encourage knowledge sharing on how institutions and organizations can effectively integrate the 17 SDGs within educational programming, research and strategic partnerships.
Share this page
Find related news by keyword
News Topics