Speaker series event inspires students to become social entrepreneurs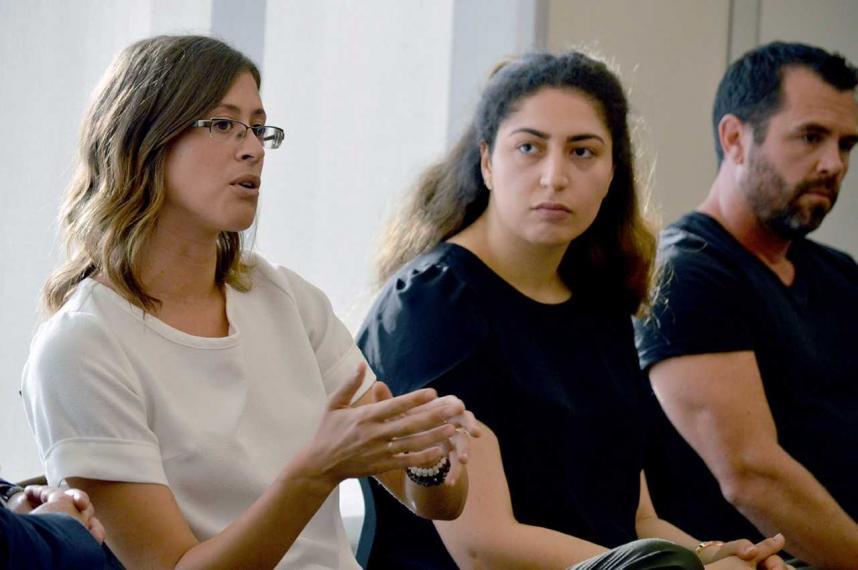 Members of the University of Guelph community were given expert advice on building a sustainable enterprise by local business leaders at last week's Bigger Picture Series event, hosted by the University of Guelph's Centre for Business and Student Enterprise (CBaSE) and Enactus, a student-led social entrepreneurship association. The event welcomed a panel of four entrepreneurs who have personally experienced developing a new venture.
To exemplify why social responsibility is so crucial in today's work environment, Lydia Summerlee from Lucky Iron Fish, Jay Whitelaw from Givesome, Matt Wittek from Cupanion, and Lana El Sheikha from Candy Cutlery discussed the practices of their socially responsible businesses. The panelists shared how sustainability is integrated in their ventures as well as the challenges and successes they encountered when using sustainability as a core value in their business model.
"For me I think it redefines success on some level. Having a social enterprise, I think it forces you to think differently. The impact that our business can have has completely blown my mind." Wittek remarked.
The event served as great opportunity for interested students to inquire more and learn from the panelists. According to instructor Ruben Burga, who moderated the event, the night proved to be a success due to the level of engagement of the student audience.
"Students learned that it is possible to be entrepreneurial and still address the 17 UN Sustainable Development Goals." Burga said.
 When asked on how being involved in a socially responsible enterprise had shaped their daily life and personality, the panelists had nothing but positive things to say.
"It has made me more compassionate, it has made me more thoughtful and it has made me more patient," said Summerlee. "I initially understood sustainability to be this big lofty thing. It just completely changed my outlook on life. It made me more thoughtful on how I live everyday life. It makes you a better person."
The Centre for Business and Student Enterprise (CBaSE), home of entrepreneurship and innovation at the University of Guelph, offers transformational learning experiences that enable the collaboration of faculty and students with the local community.
The Bigger Picture Series events aim to provide students with exposure to topics in the field of entrepreneurship and innovation. Past events have covered subjects such as bootstrapping an online business, personal branding, and building a business model. 
Share this page
Find related news by keyword
News Topics