U of G business students help spread the word about sustainability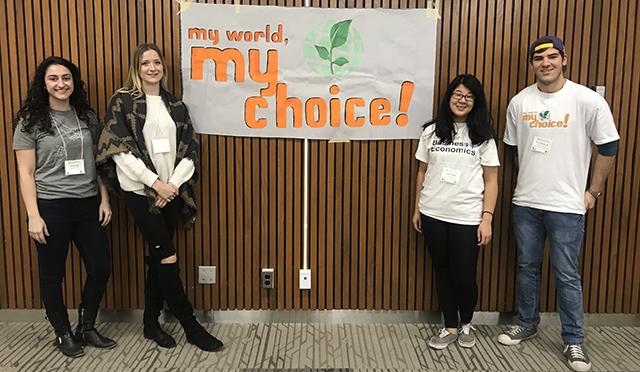 U of G business students are helping educate local high school and elementary school students on how businesses can think and act more sustainably.
The group – called My World, My Choice – is an educational mentorship program where junior and senior students in the Guelph community are taught to develop business projects that are not only profitable, but are also beneficial to society and the environment.
The MWMC group is currently working with Rickson Ridge Public School to challenge their students to grow as leaders in their school and community. In essence, the group aims to teach students about sustainability through the philosophy of 'enough for all, forever' and educate about how daily choices do have a global impact.
"Mentoring the next generation to become leaders for a sustainable world is what MWMC is all about," says Lianne Foti, Assistant Professor at the U of G and MWMC Founder. "Our mentorship program allows business students to share what they learn in the classroom at the University of Guelph and then see the positive impact that they can spread in the community."
In the past, student groups have been inspired by their mentors to create projects that reduce their school's footprint, such as:
Community gardens;
Paper and waste management;
Improved use of their school facility; and
Real cafeteria lunches
The program consists of motivated young professionals and post-secondary student mentors, who run classroom presentations to introduce the concept of sustainability to younger students. Following these introduction presentations, students participate in activities to further explore sustainability, leading up to student teams working with their mentors on projects that assess the sustainability of their schools and develop new solutions.
"It has been wonderful to work with the University as one of our community partners," says Mike Kumbhani, Grade 8 Teacher. "By inspiring and helping our grade 8 students to grow as Environmentally Aware citizens and at the same time establish a real connection with a younger demographic, the University students are making a change within the community. It is a very real and meaningful mentorship as our students are able to learn about the Environment by engaging with students who are further along in their educational journey."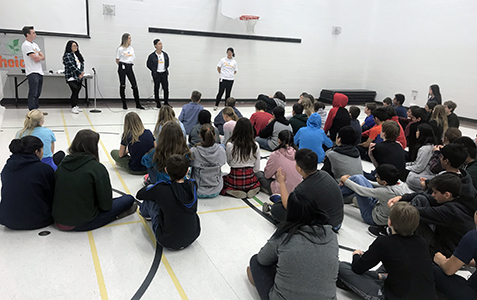 "By mentoring youth about the importance of environmental sustainability, I have learned how much of an impact we can have on our earth and how crucial it is to sustain its wellbeing for the generations to come," says Jessica Ngsee, President of MWMC Guelph. "Working side-by-side with younger students has been eye-opening because of the students' amazing, creative ideas on how they can make their own schools more 'green'. The students express so much enthusiasm when finding ways to mediate environmental issues."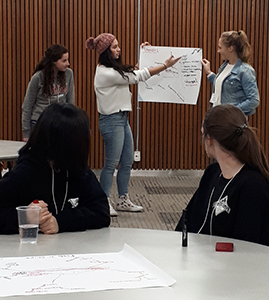 Through teaching sustainability, the group hopes to increase an understanding of how the environmental, economic and social wellbeing of our planet are tied together through the choices society makes every day; and that understanding is the first step to moving forward.
The program kicked off on Friday, March 2 and runs for four weeks.
Share this page
Find related news by keyword
News Topics