Lang BComm students lead sustainable food systems conference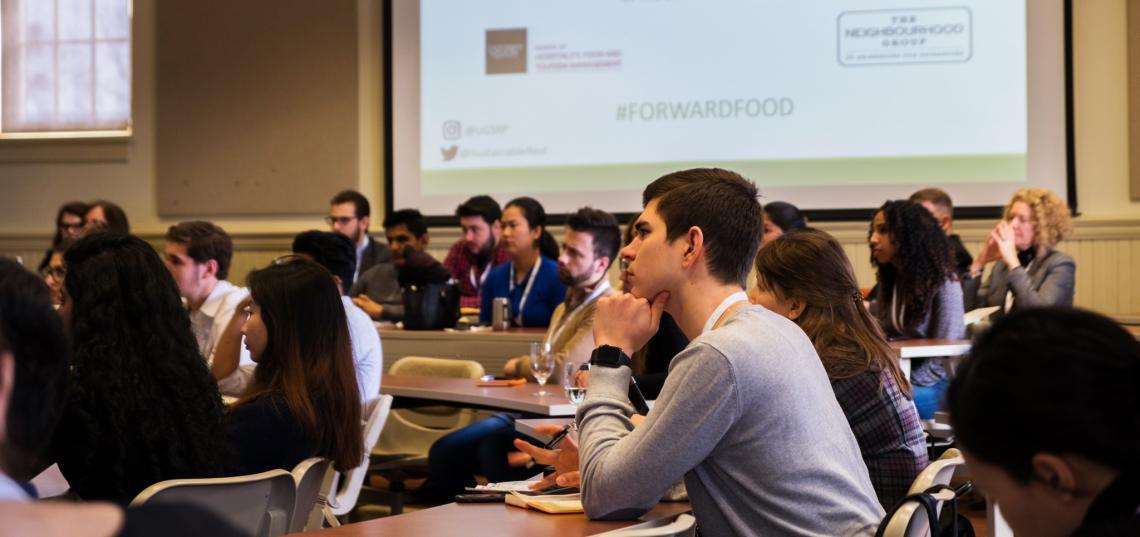 Earlier this month, U of G students from the University of Guelph Sustainable Restaurant Project (UGSRP) hosted Forward Food, a student conference focused on sustainable food systems.
Food Forward was a full-day conference that brought prominent speakers to the University of Guelph to discuss issues in the Canadian Restaurant Industry. The conference brought over 100 hospitality and culinary student delegates from across Ontario to campus for an opportunity to learn about major environmental sustainability themes in the hospitality industry and explore how these themes are impacting the industry at the global level.
The conference focused on topics including Food Waste, Plant-Based Food, Sustainable Sourcing, and creating Foodscapes in Education. To investigate these topics, delegates heard from several industry speakers, including:
Food Education

Shanna Munro, President of Restaurants Canada

Sustainable Seafood

Ned Bell, Author and Executive Chef for Oceanwise

Plant-Based Trends Panel

Simon Somogyi, Arrell Chair in the Business of Food
Maggie Skelton, Sous Chef at Planta
Vijay Nair, Executive Chef at University of Guelph
Rebecca Gordon, General Manager at Miijidaa Café and Bistro

Sustainable Business and Sourcing

Daniel Hadida, Chef at Pearl Morissette
Court Desautels, President of the Neighbourhood Group of Restaurants
Molly Gallant, Research Associate in Food Waste and Food Literacy

Corporate Impact Panel

Ron Walters, Director of Marketing Foodservice Division for Highliner
Michael St. Marie, Senior Sales Manager for Lamb Weston
Monika Giasson, Product Manager for Gay Lea Foods

Food Waste

Jonathan Bloom, International Speaker and Author of American Wasteland
Congratulations to student organizers for hosting an incredible event. Special thanks to all guest speakers for providing valuable insight and leading great discussion with student delegates.
---
UGSRP is a team of students, faculty and community partners that are committed to working towards a more sustainable future for the restaurant industry. Through the project, the team hopes to create change in both the mindset and behaviours of hospitality students, hospitality educators, and operators in industry so that schools come together with a more sustainably-focused curriculum to produce leaders for a sustainable world.
Share this page
Find related news by keyword
News Topics