Navigating life, loss and the road to success – Lisa Lisson and #HeForShe at U of G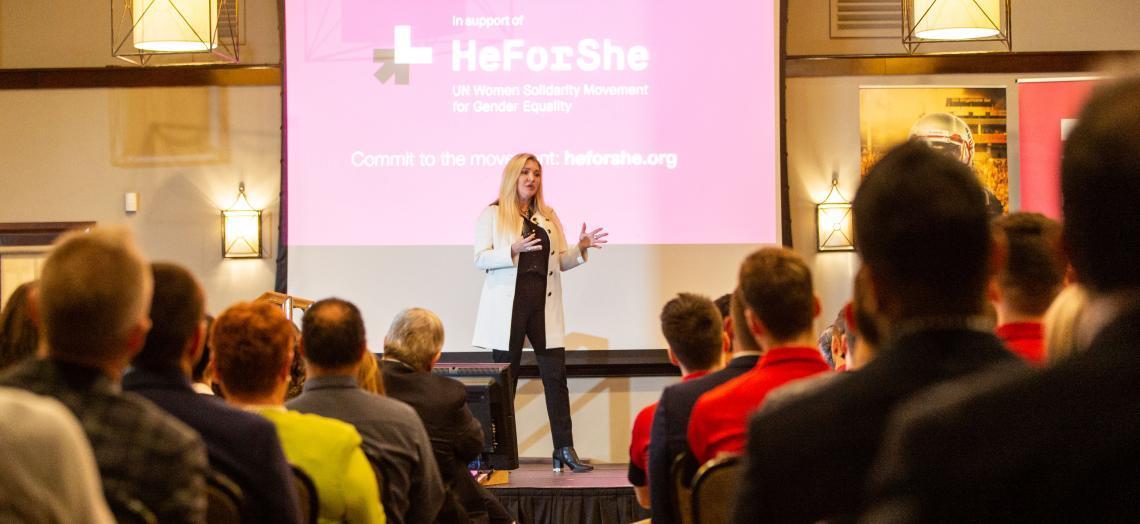 On Tuesday, March 6th the College of Business and Economics teamed up with Gryphon Football and the College of Engineering and Physical Sciences to host an afternoon dedicated to the #HeForShe campaign, a UN-led campaign for the advancement of women and gender equality.
As part of the campaign, we had the privilege of hosting one of Canada's most influential female business leaders, FedEx Canada president and best-selling author Lisa Lisson on campus to speak with U of G students and lead a public talk open to the community.
As a U of G BComm alumna, Lisson began the afternoon engaging with U of G students, visiting classes with both engineering and business students. In a Q&A format, students had the chance to ask questions about Lisson's career, success, and what the HeForShe movement means to her. The discussions covered several topics ranging from her career at Fedex to her personal struggles, but ultimately revolved around how students can fulfill their careers and personal goals through the importance of goal setting, mentorship and positivity.
"Lisa provided students with very practical and comforting advice about the importance of creating time for reflection and addressing life's concerns with manageable baby steps," said Joshua LeBlanc, a sessional instructor for the 2nd year Foundations of Leadership class. "Her discussions around mentorship were invaluable. Not only did Lisa provide the class with personal examples to illustrate leadership concepts discussed in class lectures, but she also relayed the message through her success story, that resilience and compassion towards others is integral for success. It was a pleasure to watch Lisa inspire so many future leaders."
Later in the day, the community was invited to join students and the Gryphon Football team for Lisson's public talk and book signing. At the public event, Lisson shared her powerful story of resilience and shared insight into the power of cultivating a positive attitude and finding fulfillment in both a career and at home.
Lukas Brennan, U of G student and member of Gryphon Football, also addressed the crowd and spoke about the importance of men – and the Gryphon Football team – to join the conversation and stand together with women as agents of change to achieve gender equity.
The Lisa Lisson Resilience Award, two scholarships worth $5,000 each, were also awarded at the public event. The scholarships were created to recognize a female student from both the Bachelor of Commerce program and the Bachelor of Engineering program who have shown resilience and leadership throughout their life. This year's award recipients were Alicia Denoon (Bachelor of Commerce) and ThiênAn Gillespie (Bachelor of Engineering).
The HeForShe at U of G celebration will continue for the next ten years, with the support of a 10-year commitment by the Angel Gabriel Foundation. As part of this support, $10,000 in scholarships will be awarded each year to a female-identified business and engineering student.
Thank you to Gryphon Football, Lisa Lisson, the Angel Gabriel Foundation and everyone who joined us for making this event possible.
---
Last year, CBE teamed up with Gryphon Football for the first annual HeForShe at U of G event and hosted award-winning business journalist and best-selling author Amanda Lang.
About the HeForShe Initiative
HeForShe is a solidarity campaign for the advancement of gender equality, initiated by UN. Its goal is to achieve equality by encouraging all genders to partake as agents of change and take action against negative stereotypes and behaviours. Grounded in the idea that gender inequality is an issue that affects all people—socially, economically and politically—it seeks to actively involve men and boys in a movement that was originally conceived as "a struggle for women by women".
Learn more about the HeForShe initiative
About Lisa Lisson
As the president of FedEx Express Canada, Lisa Lisson is one of Canada's most powerful and influential executives. Lisa has become a renowned public speaker in Canada and the United States for her revealing discussion about becoming the first woman and first Canadian president in FedEx Express Canada history. The sudden passing of her husband at a young age, raising their four children as a single mother, while building a successful career has enabled Lisa to acquire many insights and advice that she shares with her audiences with openness and frankness.
Her book "Resilience: Navigating Life, Loss, and the Road to Success" is an inspirational story about how to rise to the top in a man's world, triumph over adversity, lead a fulfilling life, and live each day with purpose and gratitude. Part leadership guide, part memoir of loss, and part personal empowerment primer on how to achieve your goals no matter what the universe throws at you.
Share this page
News Topics