New $100,000 startup fund announced at entrepreneur showcase event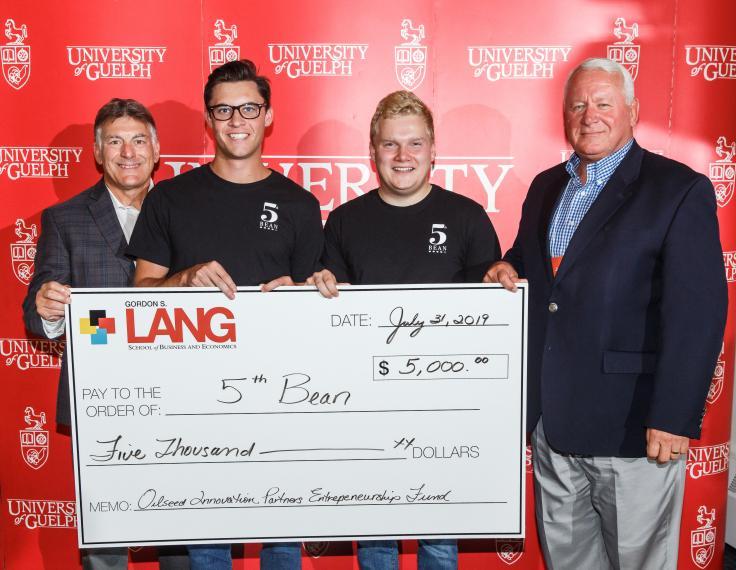 The John F. Wood Centre for Business and Student Enterprise (Wood Centre) announced new funding for entrepreneurs during their Startup Showcase event on July 31st. The newly created Oilseed Innovation Partners Entrepreneurship Fund is available to U of G startups enrolled in the Centre's Hub Incubator program who have a business idea associated with the Canadian oil seed industry.
The fund was established through a major gift from the Oilseed Innovation Partners, a non-profit organization dedicated to creating new bioscience opportunities for Canadian oilseeds innovation by donating their proceeds toward entrepreneurship.
With additional financial support from the Ontario Agricultural College (OAC) and the Gordon S. Lang School of Business and Economics (Lang School), the fund totals $100,000 that will be distributed to startups over a ten-year period.
"This philanthropic gift is intended to create business development opportunities for aspiring student 'agri'-preneurs at the University of Guelph," said Rich Moccia, Board Chair of the Oilseed Innovation Partners and U of G professor. "The funding is a great example of how multi-disciplinary collaboration and community partners can invest in the next generation of student innovators to take positive steps toward addressing the complex problems facing society and the planet."
During the event, U of G startup Fifth Bean was announced as the first recipient of the new fund and were awarded $5,000 to help get their product to market. An aspiring micro-distillery committed to creating the world's first soy cream liqueur, Fifth Bean utilizes a unique production process that uses tofu byproducts. Their product offers a sustainable alternative to traditional cream liqueurs.
The company began in the U of G's 2019 ProjectSOY innovation competition where they took home the top prize in the undergraduate program and have rapidly progressed since joining the Wood Centre's Hub Incubator program. The team consists of:
Sean Mitchell (4th year U of G student, Bachelor of Science, Environmental Sciences in environmental economics and policy)
Tim Shuh (recent graduate from the Bachelor of Commerce program in food and agricultural business)
Mitchell Rice (4th year U of G student, Bachelor of Commerce in food and agricultural business)
"We were honoured and delighted to hear that the Oilseed Innovation Partners Entrepreneurship Fund values our collective efforts to use high quality, organically grown Ontario soybeans to create the world's first soy cream liqueur," said Sean Mitchell. "The funding we are receiving is a critical investment in our company that will support our long-term success by ensuring that Fifth Bean can establish itself as a forerunner in sustainability and quality."
Sustainability was a common theme surrounding Fifth Bean's business. Their overall mission is to create a circular food economy by reducing waste, source materials and to operate their business locally, and produce carbon neutral products.
"Fifth Bean has created a highly innovative use for Ontario soybeans that balances environmental stewardship with a sound business model and clear path to market," said Jeff Schmalz, former CEO of the Oilseed Innovation Partners. "This venture also aligns well with the values of the Oilseed Innovation Partners and the U of G's commitment to improve life. We are confident that Fifth Bean will represent the Oilseed Innovation Partners legacy well and that the team, product, and commitment to sustainable agriculture is worthy of investment."
The Wood Centre's Startup Showcase pitch competition is held each semester for entrepreneurs in the Hub Incubator program, competing to win funding for their businesses. Three additional awards were up for grabs during the event, including the Best Pitch award, the Warren & Deborah Jestin Impact Award, and the People's Choice award.
The Best Pitch award winner was Acer Guitars, a manufacturer of high-quality custom guitars and basses created from unique, salvaged materials. Each guitar is designed to sound great, be ergonomic, and can be customized to the customer's desires.
The Warren & Deborah Jestin Impact Award is given each semester, recognizing the business that demonstrates the highest community and social benefit along with a sustainable and profitable business model. Congratulations to this semester's award recipient, which was also Fifth Bean.
The People's Choice Award is awarded to a company chosen by the audience. Acer Guitars was also chosen as the recipient for this award - congratulations!
Congratulations to all competing entrepreneurs and hub companies for their successful pitches and incredible work. A full list of this semester's entrepreneurs and businesses can be found on the Wood Centre's website.
---
The Oilseed Innovation Partners was a non-profit board dedicated to creating new economic opportunities in the Ontario and Canadian agricultural sector and oilseeds supply chain. After dissolving the organization, their proceeds were donated towards innovation and entrepreneurship in this space. In an effort to engage and support student-led entrepreneurship and innovation in the agricultural and oilseeds sector, the Oilseed Innovation Partners Entrepreneurship Fund will be administered by the Wood Centre for a period of 10 years, allowing for a maximum of $10,000 to be awarded to entrepreneurs each year.
The Hub Incubator Program offers U of G students and alumni funding, dedicated office space and access to experienced entrepreneurs. The Hub focuses on helping startups develop a strong business model that can be rigorously tested and intelligently scaled. The program is available to University of Guelph students and alumni working on innovative projects. Eligible teams must have at least one co-founder who is a current University of Guelph student or alumnus. Teams accepted into the Hub are required to complete at least 30 hours of work each week and receiving full funding will be based on teams meeting certain requirements.
Share this page
News Topics