NFL Canada, Golf Canada among industry reps at student networking event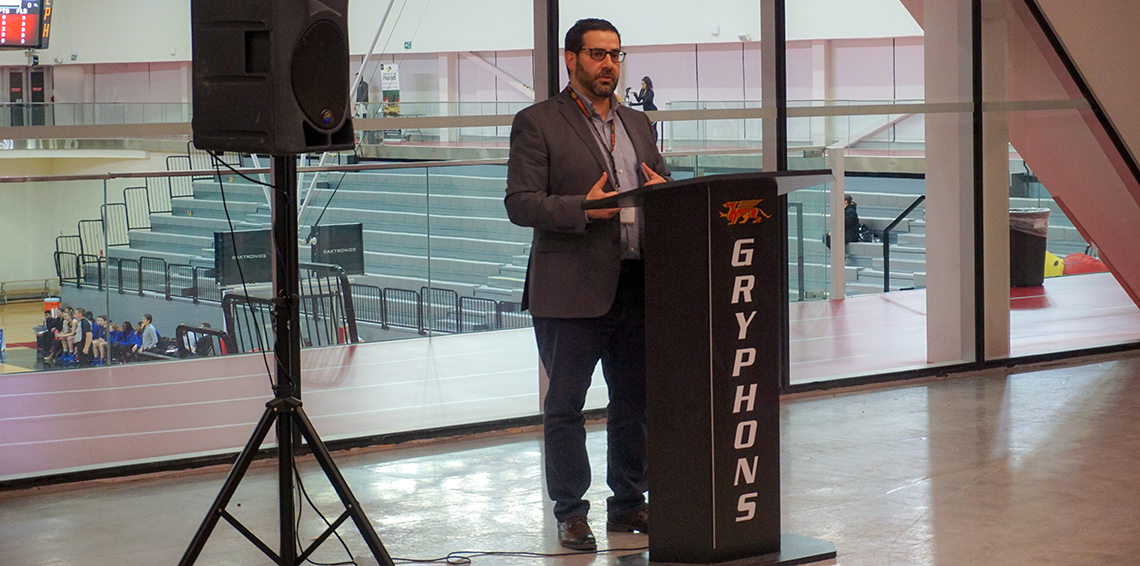 Last week, Lang students from the Guelph Sports Management Association (GSMA) hosted Nothing but Networking, an event to provide U of G students with the opportunity to meet and connect with several sport industry representatives.
The event featured industry representatives from NFL Canada, Golf Canada, the Guelph Nighthawks, PepsiCo Foods, Fluid Design/Guelph Rowing, TekSystems, and Gryphon Athletics.
At the event, students had the chance to hear a keynote from Dan Pino, Director of Corporate Communications at Golf Canada. He spoke with students about his journey in the sport industry, his role at Golf Canada, and offered advice to students as they look to begin their career in sport.
"The impact that networking events can have on students is incredible," said Alissa Riolo, Vice President of Marketing at GSMA. "These events provide students with the opportunity to gain knowledge while building connections with industry professionals within the sports and entertainment sector. It's a great milestone for our school as the Sport and Event Management BComm major will be launching this fall."
Also speaking at the event was Scott McRoberts, U of G's Director of Athletics, and Stu Lang, former Gryphon Football head coach and benefactor of the Gordon S. Lang School of Business and Economics.
Students also had the chance to network with Lianne Foti, Assistant Director of U of G's International Institute for Sport Business and Leadership, and hear from graduate students about the research happening within the institute.
Following the event, attendees cheered on the Gryphons Men's Basketball team as they faced off against the Ryerson Rams.
---
The Guelph Sports Management Association is an accredited student group for students interested in the business of sport. The group organizes several networking events with industry professionals and hosts events throughout the year.
The Lang School also recently announced the launch of their new Sport and Event Management Bachelor of Commerce major, which will prepare students for professional and leadership roles in the global sport, media and event industry.
Share this page
News Topics