Lang students engage with senior Sportsnet reps in 2nd year course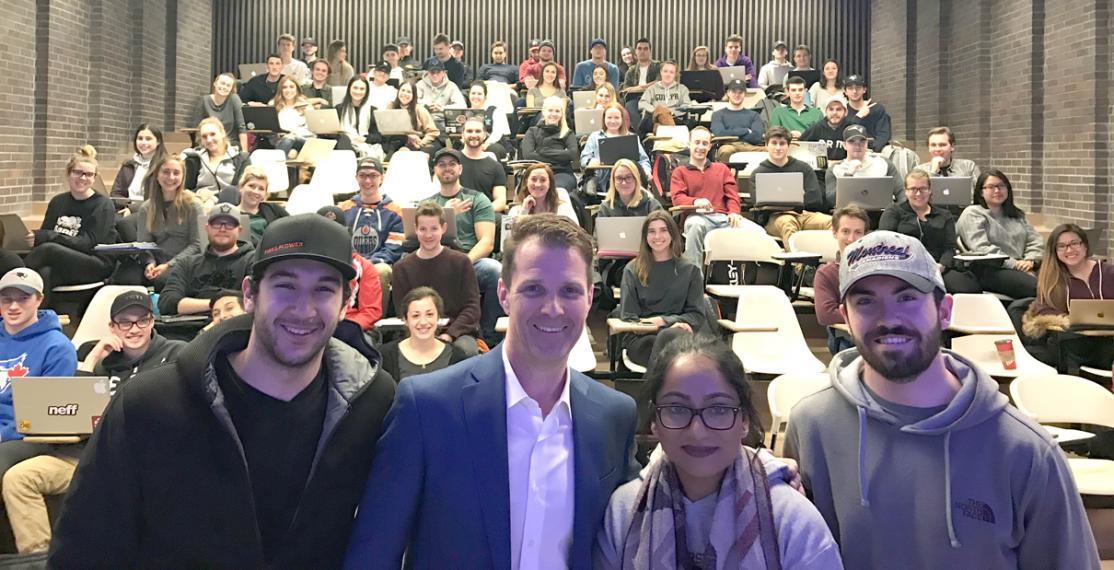 On Tuesday, February 25, Lang students in a second-year sports business course had the opportunity to engage with a panel of several senior staff at Sportsnet, including guest speaker and Lang alumnus Anthony Attard, the Senior Vice President, Sponsorship, Marketing and NHL Sportsnet at Rogers Media.
The guest lecture was part of the Business of Sport and Event Tourism Management (HTM 2020) course, and also included an opportunity for students to ask questions to the industry panel. The panel included:
Anthony Attard – Senior VP, Sponsorship, Marketing and NHL Sportsnet
Norval Wilson – Manager, Digital Brand Development
Michael Culmone – Senior Analyst
Matt Bloom – Client Service Manager, Sports
Lindsey Steward – Client Service Manager
Nicole Mintsoulis, Manager, Brand Development
Students asked questions ranging from how to adjust to illegal streaming and negotiating media rights, to the strategies around marketing certain sporting events and getting viewers excited for events like the NHL All-Star game.
Attard is one of several guest lecturers invited to the class throughout the semester, which includes next week's guest lecturer Dan Mackenzie, President CHL and former head of NBA Canada. The course looks at the sport tourism industry and the integration of the business of sport, such as the Olympics and other major events playing a key role in the billion-dollar industry.
---
The Business of Sport and Event Tourism Management course (HTM 2020) is a course in Lang's School of Hospitality, Food and Tourism Management and is instructed by Scott McRoberts, Athletics Director at the University of Guelph.
In 2019, the Lang School also launched both a Sport and Event Management major and minor.
Share this page
News Topics