Lang real estate students awarded scholarships thanks to The Condo Store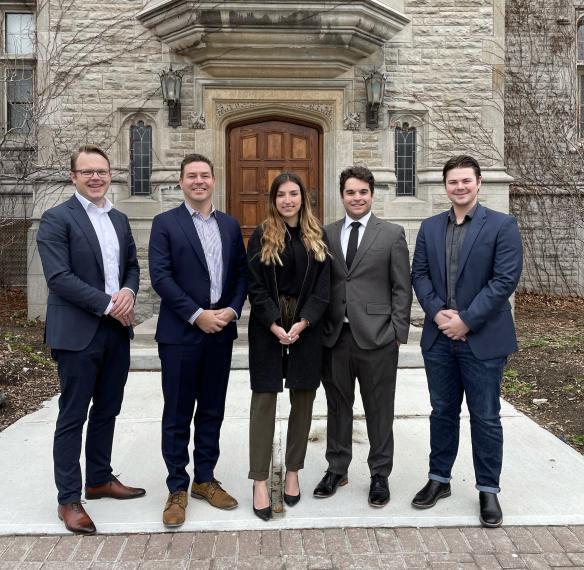 Last fall, The Condo Store, one of the largest pre-construction real estate company's in North America, established an annual scholarship to support experiential learning of Bachelor of Commerce students within the Real Estate Major. The scholarship helps foster student learning and skill development including teamwork, collaboration, and presentation skills. Commerce students Sydney Copping, Conner Poroszlay, and Zachary Shereck were awarded the inaugural scholarship.
"The Condo Store (TCS) is thrilled to award the first annual scholarship. The idea behind this scholarship is to support future leaders to ensure current students are thinking about soft skills as an importing  part of their tool kit as they enter the workforce. These students demonstrated both the harder analytical skills with an excellent real estate investment evaluation and came through with a polished and professional final presentation. The level of work and effort that all the groups placed into their projects and presentations was very impressive. Kudos to the whole group and Professor Holtermans" said Rich Kuypers, CMO, The Condo Store.
Sydney, Connor and Zachary were all thrilled to be recipients of this scholarship, each noting how unique this opportunity was and how this will benefit them both as they complete their undergraduate degree and in their professional careers.  
"This scholarship has helped me to further develop my professional skills and gain more understanding of the real estate industry. This will be something that I remember throughout my entire academic career" said Sydney Copping.
"Presenting to The Condo Store was an amazing opportunity to demonstrate our knowledge we accumulated throughout the semester. I would like to thank The Condo Store for establishing the scholarship as well as The Lang School of Business and Professor Holtermans for organizing this opportunity" said Conner Poroszlay.
"We were able to receive so much helpful feedback that not only helped us to be successful in the class, but will also be beneficial as we continue building our professional careers in the real estate industry. I look forward to seeing how The University of Guelph and The Condo Store can continue to work together to shape the future leaders of the real estate industry" said Zachary Shereck.
To read more about this scholarship, visit https://www.uoguelph.ca/lang/news/2020/11/lang-real-estate-students-compete-cash-prize-thanks-new-scholarship
Share this page
Find related news by keyword
News Topics