Lang celebrates National Indigenous History Month and Pride Month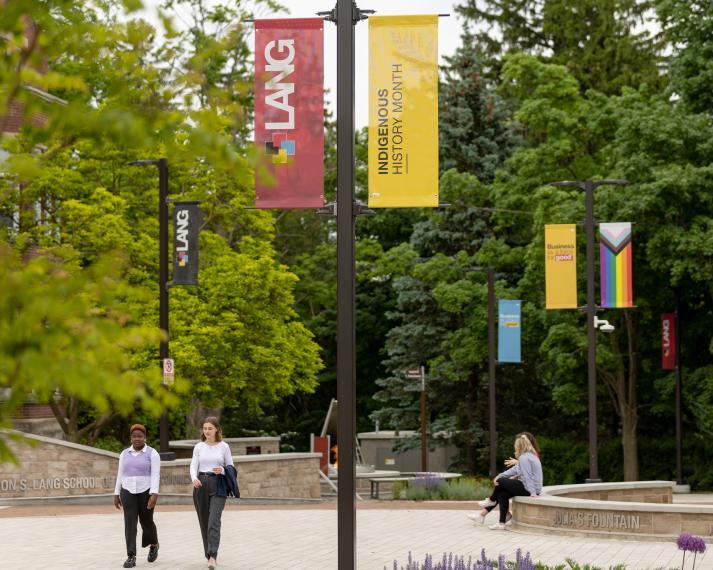 Dear Lang Community,
June is a special time of the year as we celebrate both National Indigenous History Month and Pride Month on campus and in our communities. At Lang, fostering more equitable, diverse, and inclusive spaces is core to our institutional culture and our strategic priorities. If you are on campus, you will notice that Lang Plaza has been adorned with new banners commemorating National Indigenous History Month and Pride Month. We raise these banners to showcase our commitment as an institution to working to better support First Nation, Inuit and Métis and LGBTQ2SIA+ students, staff, faculty, and visitors. However, we know that banners and statements of support are not enough in our Indigenization and EDI efforts, we must also engage in meaningful actions.
Throughout this month, Lang will be sharing with you some resources and activities that you can engage in to support your learning journey. We encourage each of you to take some time throughout the month to review some of the resources we share in order to open dialogue about how our Lang community can better serve and support members of these communities. Developing and maintaining a culture of belonging for everyone does not happen by accident, it takes intentional effort from each person to become more informed and engaged through learning and unlearning.
This list is not exhaustive or perfect, rather it is a starting point for individuals who are looking for some initial access points to engaging more with Indigenous and queer communities but aren't sure where to start. If you have other recommendations, please share those with Lang's EDI Coordinator, Thomas Sasso (tsasso@uoguelph.ca). Going forward Lang will be compiling a list of relevant books, websites, and other resources related to EDI and Indigenization that we can share and make accessible for all our staff, students, and faculty.
Campus Resources
At the U of G campus, we have many services and supports available for Indigenous and LGBTQ2SIA+ students, staff, and faculty. The following are a few links that can take you directly to information available through our campus that may be relevant for you or in your various roles. In particular, we want to highlight the importance of the Indigenous Initiatives Strategy which is an institutionally approved plan to help the University of Guelph and its members engage in Indigenization practices.
Books
For individuals looking to learn more about Indigenous and queer communities within the business and employment context, we have identified a list of books that may be of interest to you. These resources may be of interest in providing information and ideas that you can incorporate into your teaching, research, service, and interpersonal efforts.
Indigenous Business in Canada: Principles and Practices. Edited by Keith G. Brown, Mary Beth Doucette, and Janice Ether Tulk
Indigenomics: Taking a Seat at the Economic Table. By Carol Anne Hilton
Amplifying Indigenous Voices in Business: Indigenization, Reconciliation, and Entrepreneurship. By Priscilla Omulo
Indigenous Writes: A Guide to First Nations, Métis, & Inuit Issues in Canada by Chelsea Vowel. 
Working Effectively with Indigenous Peoples (4th edition). By Bob Joseph & Cynthia F. Joseph
Braiding Sweetgrass: Indigenous Wisdom, Scientific Knowledge, and the Teachings of Plants. By Robin Wall Kimmerer
Indigenous Relations: Insights, Tips & Suggestions to make Reconciliation a Reality. By Bob Joseph with Cynthia F. Joseph
Alphabet Soup: The Essential Guide to LGBTQ2+ Inclusion at Work. By Michael Bach
The G Quotient: Why Gay Executives are Excelling as Leaders… and What Every Manager Needs to Know. By Kirk Snyder
The Queering of Corporate America: How Big Business Went from LGBTQ Adversary to Ally.  By Carlos A. Ball
Creating an LGBT+ Inclusive Workplace: The Practical Resource Guide for Business Leaders. By Kryss Shane
The Library also has the Pride Collection and the Exploring Indigenous Narratives and Worldviews Collection.
If you would be interested in joining a Lang EDI reading group focused on one of these books, please contact Thomas Sasso, Lang's EDI Coordinator (tsasso@uoguelph.ca) by June 10. The reading group will meet monthly for one hour to engage in discussions about the content and how this can be applied to our teaching, research, service, and organizational culture. The group will collectively determine its own pace of reading, in the hope that this creates a more accessible timeline.
Online Organizations
As a business school, we may be interested in connecting with organizations that specifically support and advocate for Indigenous and LGBTQ2SIA+ individuals, organizations, and communities. There are two organizations in particular that you may want to start by looking at:
Upcoming Events
One of the greatest ways to develop understanding and learning during this month is to engage directly with members of Indigenous and queer communities. We don't want to add labour onto Indigenous and queer colleagues or students to educate us, so instead we can engage with organizations that are choosing to do this teaching. Here are two organizations you can look to for events in the coming weeks.
The Woodland Cultural Centre
The Woodland Cultural Centre is a regional organization that preserves and promotes Indigenous history, art, culture, and language. They offer many resources on their website and include a virtual tour of the Mohawk Institute Residential School. Registration for the upcoming virtual tour is required and the cost is a $10 donation that supports educational programs at the Centre.
Website: https://woodlandculturalcentre.ca/
Guelph Pride Spring Pride Festival
Starting on June 4 until June 12, Guelph Pride is hosting a range of events for people of all ages to celebrate the 2SLGBTQ+ communities in the region. On their website, you can find a list of events, including many opportunities for children and youth to participate in activities created and run by other queer youth.  
Website: https://www.guelphpride.com/spring-pride.html
We look forward to this month ahead where we take additional time to learn about and reflect upon our collective responsibility to create spaces of belonging for Indigenous and queer individuals, communities, cultures, and histories all year long. Through this process, we aim to make informed decisions and actions that prioritize our efforts for Indigenization, equity, diversity, and inclusion of all peoples. This is not something that can be achieved through a checklist, a one-off training, or delegating it to someone else to prioritize; we all must do our part to engage in these ongoing efforts if we truly hope to fulfill our vision to be recognized locally and globally for our commitment to developing future leaders for a more sustainable world.
Dr. Sara Mann
Dean, Gordon S. Lang School of Business and Economics
Share this page
News Topics