Lang MA Leadership student Meaghan Blight announced as President and CEO of Wesleyan College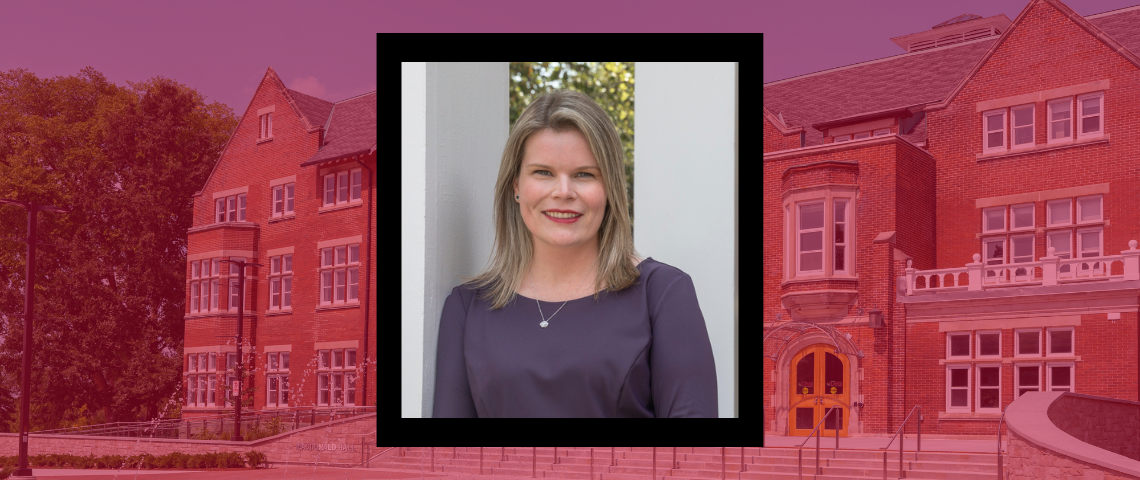 Current Lang MA Leadership student Meaghan Blight was recently announced as the new President and CEO of Wesleyan College, a liberal arts College for women located in Georgia, USA. Blight credits much of her recent career success to the learning and growth she experienced in Lang's MA Leadership program for professionals.
Blight has spent the last thirteen years as an executive in higher education, most recently at Huron University College in London, Ontario where she served as the Vice President of University Growth and Chief of Staff.
As of July 1st, Blight will take on a new challenge, leading the historic Wesleyan College as President and CEO. Blight is excited to serve a women's college as she understands the important role they play in accelerating gender equality. "After spending the last eight years rebranding and repositioning Huron University to be a sustainable and formidable force in the academic space, I am ready to commit my energy, drive and experience to Wesleyan College, to lead this prominent institution through her next chapter."
In the below Q&A, Blight gives her thoughts on the experiences and support she received while pursuing her MA in Leadership at the Lang School.
How has your degree at Lang helped prepare you to be an effective leader?
Lang's MA in Leadership deepened my appreciation and understanding for the theories, practices, and applications of diverse and broad-based approaches to leadership.

The academic rigor is significant in the program. I further deepened my ability to evaluate and critically assess information and apply it to my role as a leader within my institution.
What course(s) had the most impact?
My work with Dr. Sean Lyons in preparing a project outline and plan for the major research project (MRP) has been very challenging and rewarding. Dr. Lyons encouraged me to choose a topic that sparked my passion and curiosity, working directly with him has been a privilege. This topic is not only fascinating to me, but the research has also informed much of my planning and strategy for my upcoming Presidency.

My MRP is focused on understanding the positioning and relevance of women's only colleges in the United States. The paper explores the challenges of operating such institutions and the common decisions and leadership failures that have resulted in its swift decline. The paper also suggests recommendations for ensuring the sustainability for the remaining college's left in the United States.
What was your experience learning from Lang faculty?
The Lang faculty are very responsive and supportive, Dr. Jamie Gruman for instance was always quick to respond to any inquiry and jump on a "Zoom" call to help advise on assignments and course work, his combination of great humor and great depth of knowledge was an energizing combination.

Also, Dr. Laurie Barclay's class on self-assessment, which I am currently in, has come at a serendipitous time. I am working through my own personal assessment as a leader within the course work and being asked to thoughtfully examine my own abilities and opportunities for development within my leadership journey. As I move into my new role as President of Wesleyan College, Dr. Barclay's class has offered me an opportunity to critically analyze and assess what kind of leader I want to be and challenged me to put an action plan in place to reach that goal. Dr. Barclay's accessibility, timely, thoughtful, and specific feedback has been tremendously useful and supportive throughout this course.
Can you offer one piece of advice for a student that is about to start their MA in Leadership program at Lang?
My advice would to Lang MA Leadership students is to connect with your cohort early and often. Your fellow students will significantly enrich your learning experiences at Lang.
Share this page
News Topics