Soy-based skincare startup on the rise thanks to oilseed entrepreneurship funding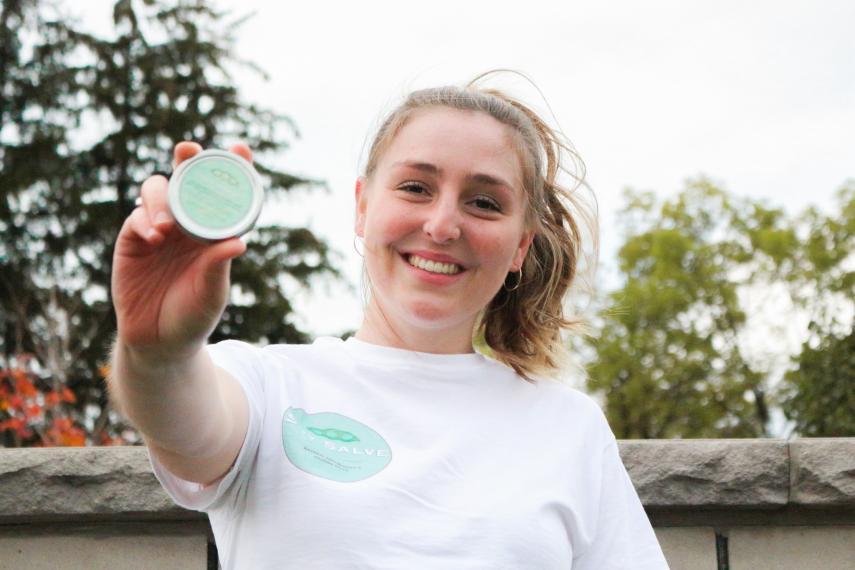 A U of G soy-based skincare startup supported by Lang's John F. Wood Centre for Business and Student Enterprise is the recipient of $5,000 in funding from donors in the oilseed production industry.
Soy Salve is an all-natural anti-blister and chafing cream made to reduce friction that leads to skin irritation and improves previously irritated skin. Its founder, food science graduate Olivia Lennon, launched the business after being inspired by the marketing and food science courses she took at the University, as well as her participation in the Project Soy Plus competition.
"Creating this company has allowed me to explore my passion for product development and use the skills that I learned in class," says Lennon.
The funding comes from the Oilseed Innovation Partners (OIP) Entrepreneurship Fund which was launched in 2019 to help oilseed-focused startups at U of G. "This funding will allow me to apply for a Natural Health Product License with Health Canada and enhance our marketing and sales efforts through social media and local markets," says Lennon.
The Wood Centre's Hub Incubator program, which provides mentorship, funding and support to U of G based startups, was critical to Soy Salve's early success. "Thanks to the Wood Centre, we learned different perspectives on how to run a business from other entrepreneurs and met with people in the cosmetic industry to ask important regulatory questions," said Lennon.
Lennon's quick success through the startup program can be credited to her participation in U of G's Project Soy Plus, says Wood Centre Program Manager April Albano. "It has been an incredible privilege to walk alongside Soy Salve as they have continued to push forward with their business. We are looking forward to watching Soy Salve grow."
The Oilseed Innovation Partners Entrepreneurship Fund was established through a legacy gift from the Oilseed Innovation Partners (OIP), a non-profit organization originally established to create new bioscience opportunities for Canadian oilseeds. The $100,000 fund was created in 2019 by U of G professor Rich Moccia and Jeff Schmalz, CEO of OIP when the organization ended its operations. "We are thrilled to award Soy Salve this funding to advance the oilseed sector through this natural health product," says Moccia. "The innovations that have come through the University of Guelph entrepreneurial ecosystem since the inception of this fund have been exciting to watch," added Schmalz.
The Oilseed Innovation Partners Entrepreneurship Fund is also financially supported by the Ontario Agricultural College (OAC) and Lang to enhance the unique opportunities available to entrepreneurial U of G students.
"I'm very proud of how the University has supported Olivia's entrepreneurial journey," says Rene Van Acker, dean of OAC. "Her innovative ideas and skills have evolved throughout her U of G experience and interactions with U of G professors, staff, programs, mentors and industry partners. Olivia's story is a perfect example of the type of student success we strive for."
Lang's John F. Wood Centre for Business and Student Enterprise offers a wide range of programs and funding opportunities for student and alumni entrepreneurs across the University of Guelph. The Centre's Hub Incubator Program has launched over 150 successful startups to date.
Share this page
News Topics