Jan 26: University of Guelph Alumnus Ken Miner gives advice and insight to third year Business and Economics students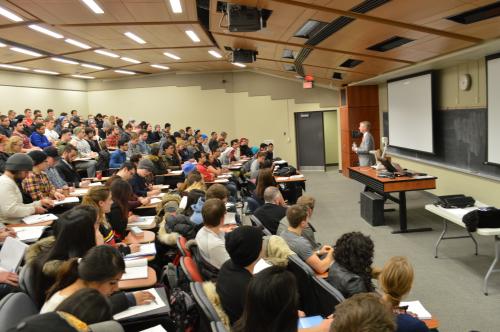 More than 150 students packed into an Alexander Hall classroom on Monday to listen to University of Guelph business alumnus Ken Miner, vice-chair of fixed income at TD Asset Management Inc. (TDAM). A strategic advisor for TD's USA expansion, Miner spoke to Evie Adomait's third year Money, Credit and Financial System's class about the circumstances and causes of the 2007 financial crisis and the differences between the Canadian, US and European banking systems. Miner also reflected on his personal growth from a student to a successful and global financial analyst. Miner started his education as a student in the Ontario Veterinary College but later switched to Guelph's business school after he discovered he was allergic to certain livestock.
Miner's family and associates also have close ties to the University of Guelph's College of Business and Economics. His sister, Anne Miner, recently received an Alumni Medal of Achievement from the College. His associate at TD, Kim Parlee sits on the College of Business and Economics Advisory Board.
Miner joined TDAM in June 1991 and has more than 30 years of experience in domestic and international fixed income and currency markets. As vice chair of Fixed Income, Ken and his team are responsible for the overall management of all active, passive, derivative and structured fixed income mandates, as well as money market and foreign exchange encompassing retail and institutional (insurance, corporate, pension and union) assets.
Share this page
News Topics