March 14: Business students raise funds for at risk youth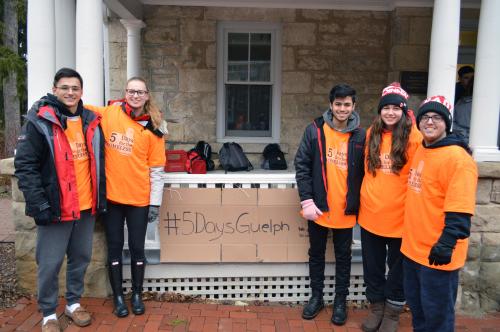 Five University of Guelph business students are sleeping outside and living only on donated food this week to raise awareness and funds in support of at risk youth. It is all part of the annual 5 Days for the Homeless campaign, which sees post-secondary students across Canada engaging in fundraising activities for various youth-focused charities. Now in its seventh year, the University of Guelph campaign, which is run by the College of Business and Economics Students' Association (CBESA), is aiming to raise $15,000 for Wyndham House.
The 5 Days for the Homeless campaign started in 2005 at the University of Alberta and quickly gained momentum as a national movement, raising more than $1.6 million in a decade. Approximately 26 schools now participate in the campaign nationwide.
People wishing to make a donation to the University of Guelph's campaign can do so online or by finding a student sleeper by Raithby House.
Share this page
News Topics