Nov. 16: Five ways to discover your inner entrepreneur at the University of Guelph
University of Guelph business students looking to investigate a career as an entrepreneur have many opportunities and resources at their fingertips to help them develop their business ideas. In celebration of Global Entrepreneurship Week, we are showcasing courses, events and programs available to aspiring entrepreneurs.
Hub Incubator Program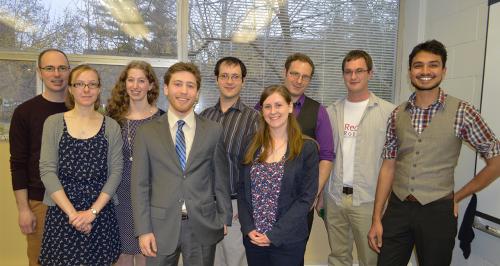 Launched by the Centre for Business and Student Enterprise (CBaSE), the Hub Incubator Program provides funding, office space, mentoring and other resources to help entrepreneurs launch and grow their businesses. Current students and alumni are eligible to apply to the Hub. Previous cohorts have started businesses in a wide range of industries including food, robotics and tech. Learn more about these businesses in our video profiles.
Introduction to Business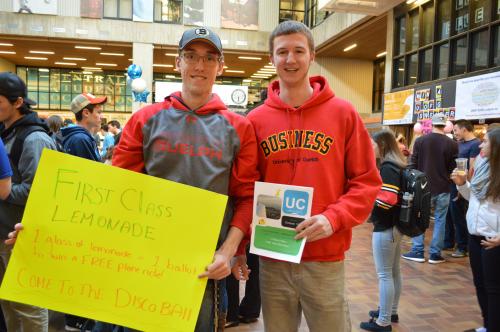 All first-year business students at the University of Guelph take Introduction to Business (MGMT*1000) during their first semester. In addition to classroom learning, students participate in projects such as Lemonade Day, where they sell lemonade products in the University Centre. This project gives students a taste of product development, marketing strategy and selling similar products in a competitive marketplace.
Introduction to Business students also have the opportunity to pitch their business ideas for the Micro-Tyco challenge. Facilitated by WildHearts, the challenge provides $1 in seed capital to students to launch their business ideas and make as much money as possible for microfinance loans for women entrepreneurs in developing countries. Check out our Micro-Tyco videos to learn more about this challenge.
Entrepreneurship Course: Build a Business Plan
Offered by the Department of Management in partnership with the Guelph-Wellington Business Enterprise Centre, students taking the Entrepreneurship Course (BUS*4550) spend the winter semester developing a business plan. Following the course, students have the opportunity to launch their business during the summer and apply for up to $3,000 in grants. Management economics and finance student Megan Dietrich, an alumna of the course, runs her own photography business in addition to her full-time studies and student leadership commitments.
Starting Lean
CBaSE offers Starting Lean for budding entrepreneurs who need guidance and experience navigating through all of the pressures and demands of an early stage startup. Based on Silicon Valley Guru Steve Blank's Lean Launchpad course, the twelve-week program is designed to provide experience in working as a team to turn an idea into a company.
Startup Events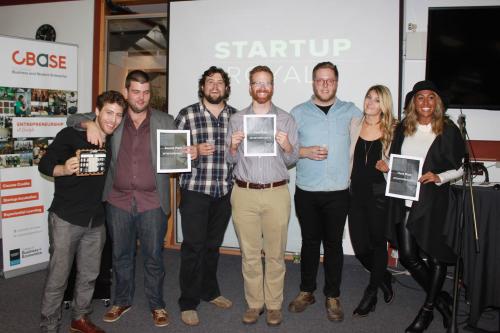 For students considering a career as an entrepreneur, events such as Startup Weekend, Startup Royale, Startup Drinks and the Bigger Picture Series offer different opportunities to investigate and start their own business, and learn from those who have seen success launching their own businesses.
Startup Weekend Guelph, which takes place during the summer at the University of Guelph, unites budding entrepreneurs to build a business in one weekend.
Startup Royale is a pitch competition that awards seed funding to youth-led startups. Business ideas are presented in front of a panel of judges and the top five pitches receive funding.
The Bigger Picture Series welcomes guest speakers to campus to present on and discuss different topics related to entrepreneurship. Organized by CBaSE, it provides an opportunity for students, faculty, staff and the greater Guelph community to learn from successful entrepreneurs who are eager to share their experiences with others.
Startup Drinks brings together startup enthusiasts to share drinks, snacks and ideas to foster Guelph's entrepreneurial spirit. Look out for more information on the next Startup Drinks event on the Innovation Guelph website.
Share this page
News Topics