War Child founder shares lessons in leadership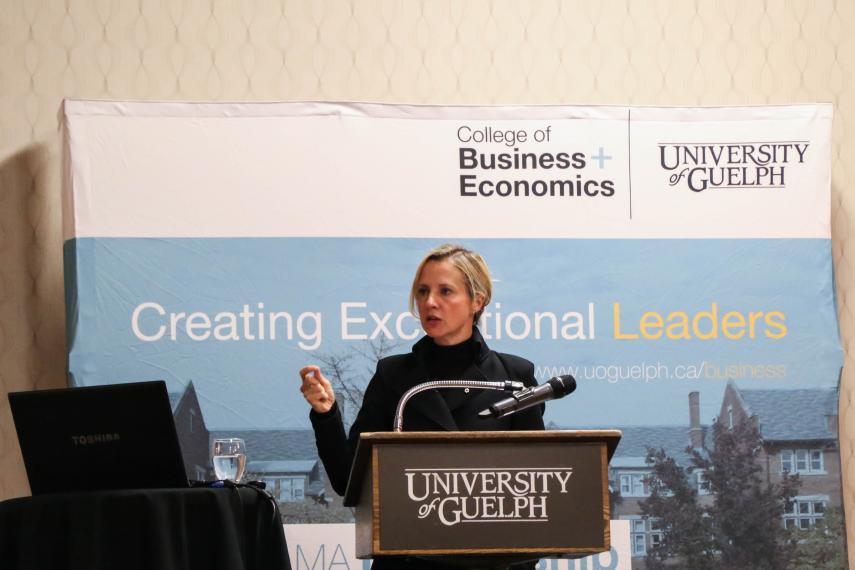 War Child Canada founder and executive director Dr. Samantha Nutt has spent the last two decades leading change around the world in some of the most dangerous and corrupt countries in existence. During this time she has learned valuable - and sometimes unconventional - lessons in how to be an effective leader, wisdom she shared with about 100 MA Leadership students and alumni at the Leadership Call to Action Speaker Series event on January 18.
Attendees quickly learned that Nutt's road to creating a nonprofit that would help children in war-affected communities was often rocky and challenging to navigate. While the organization has become recognized and respected over time, she calls the journey of starting War Child, "unlike any leadership test you will ever face." After visiting many countries in the global south where millions of women and children are victims of brutal violence and displacement, Nutt struggled to persuade people of the value of War Child in its early years. The theme of her presentation was one of perseverance through times of doubt, hopelessness and disappointment, all of which she experienced while building the nonprofit.
"We all have something to say and reasons to lead," said Nutt. "War has killed too many people close to me, and it has almost killed me. But I get up and do what I do every single day because I genuinely believe that with the right amount of leadership and initiative, we can overcome apathy, and give peace the advantage."
Throughout her presentation, Nutt defined four key leadership tools that she explained by recalling challenges she faced while developing War Child, as well as horrifying stories she heard from women during her times abroad. Nutt encouraged attendees to be adaptable and flexible, avoid limiting themselves based on people's opinions, remember the reasons behind their passion and give to change even if the change does not seem monumental.
"When you look back on your lives, when you find yourselves wondering if you rose to those leadership opportunities, if there were things you might have done differently – we all have regrets," she said. "Giving back, no matter which cause you care about, the environment, homelessness, curing cancer, confronting the inequalities here at home, that's the part we all get to be unequivocally proud of."
Nutt concluded her presentation by encouraging attendees to focus on how they give more than how much they donate. She emphasized that the choices people make as consumers and investors affects nations in conflict, and that all leaders have a responsibility to consider their personal philanthropy.
Dr. Samantha Nutt is also the author of the bestselling book Damned Nations: Greed, Guns, Armies and Aid.
Share this page
Find related news by keyword
News Topics