Success Stories | Corporate Connections
Discover some of the organizations that have invested in Canada's future business leaders by connecting with the Lang School
---
Fidelity Investments
Through a $100,000 investment, Fidelity Investments (Canada) sponsored the student-led Guelph Student Investment Council (GSIC) to provide them with active, real-world learning.
The GSIC use the investment from Fidelity Investments Canada Student Opportunity Fund to trade on the TSX and other major exchanges. This learning opportunity allows students to try their hand at trading real money on major North American exchanges.

Air Transat
---
Lang hospitality and tourism management students took part in a unique, applied-learning field course in the Dominican Republic, where they explored the challenges and elements influencing sustainable tourism – a growing segment within the global industry.
The course was funded by Air Transat, who generously donated the flights and hotel accommodations. Students work on a collaborative, team-based assignment, where they will develop a plan for the travel company to further their sustainable tourism offerings on the island. Students then presented their report to Air Transat stakeholders.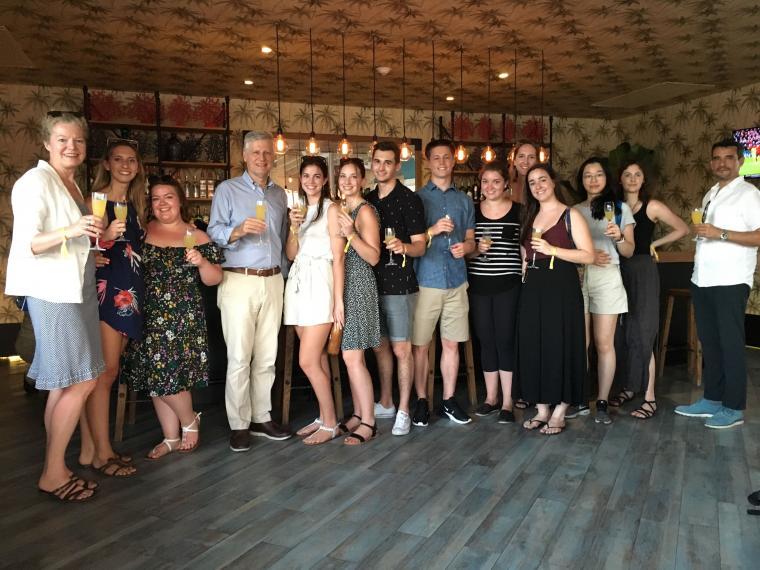 Maroon Group (previously Cambrian Solutions)
Through a $40,000 gift to the University of Guelph, Maroon Group supports two annual awards of $4,000 each year: the Maroon Group Business Scholarship and the Food Science Scholarship.
"On behalf of the staff and ownership we are thrilled to continue our long-standing relationship with the University of Guelph. We are pleased to give back to our youth while also supporting the future needs of industry moving forward. U of G has proven to be an outstanding resource to develop the much-needed leaders of tomorrow and we at Maroon are pleased to be a small part of that continuing development," Peter Jobling, President, Maroon Group.